Authentic Thai Recipe for Pad Thai Sauce
✔

You gave this recipe a 3 star rating.
Pad Thai Sauce
ซอสผัดไทย
Added on November 21, 2016
Currently rated:


Rated 4.5 Stars from 2162 reader reviews
Yield: 2 - 4 servings
Prep time: 2 Minutes
Cooking time: 5 Minutes
Ready in: Less than 10 minutes
If you already have the ingredients you like to put in your Pad Thai Noodles, but have been using a bottled sauce from your Asian market, why not try making your own? This delicious and very authentic tasting sauce will make your Pad Thai taste great, and it's quite easy to make.
Ingredient List:

What's in our Pad Thai Sauce.
Basic Directions:

How we make our Pad Thai Sauce.
1) Combine sugar, tamarind paste, lime juice, vinegar, fish sauce, and Sriracha hot sauce in a small pan.

2) Heat while stirring over low heat until bubbling, sugar melts, and all ingredients are well blended.

3) Allow to cool. Refrigerate unused portion.
Jump to the detailed step-by-step method.
Our YouTube Channel features videos produced by Worawut and the team at
Baan Worawut
, our local Chiang Mai fast food restaurant. The recipes include some the most popular dishes we serve, family favorites from home, as well as a few more complicated Thai recipes that require hours to prepare.
Watch the Complete Video Lesson:
Subscribe, Follow, or Share:
Access 100 Free Thai Cooking Lessons:
Like this recipe? Please share it!
Please rate this recipe by giving it from 1 to 5 Stars: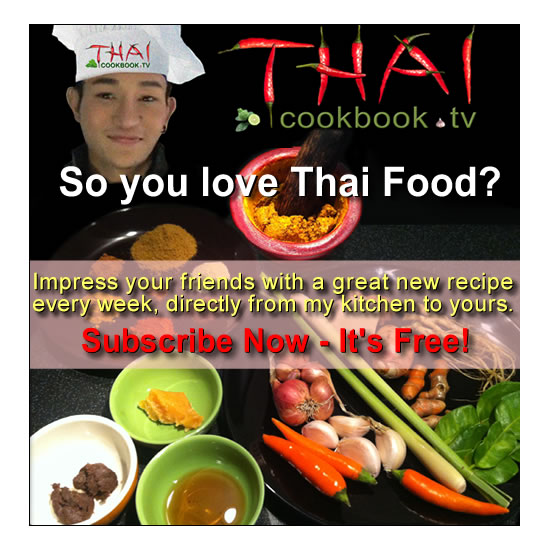 Detailed Step-by-step Method:
Print these instructions >
Step 1
Pad Thai sauce is basically a sweet, sour, and salty sauce. If using palm sugar that comes in a big cube or disc, you'll need to chop it into very small pieces so it melts fast.
---
Step 2
Combine the sugar, tamarind paste, lime juice, vinegar, fish sauce, and Siracha style hot sauce in a small pan.
---
Step 3
Cook over low heat, stirring continuously, until it boils lightly and the sugar melt. Allow to cool completely.
---
Step 4
Keep in a closed container, and store refrigerated until ready to use. It will stay good for a few weeks if kept very cold.
---
Step 5
For one to two servings of Pad Thai, add about 3 or 4 tablespoons of the sauce after the noodles have softened and stir in well. For our complete Pad Thai recipe Click Here
---