Authentic Thai Recipe for Ginger Chicken Soup
✔

You gave this recipe a 1 star rating.
Ginger Chicken Soup
ต้มขิงไก ( Tom Khing Gai )
Added on April 19, 2015
Currently rated:


Rated 4.5 Stars from 2811 reader reviews
Yield: 4 - 6 servings
Prep time: 10 Minutes
Cooking time: 45 Minutes
Ready in: Less than one hour
This delicious Thai-style chicken stew known as Tom Khing Gai (ต้มขิงไก่) is made with big juicy pieces of chicken leg meat with the bone and skin left on. The chicken is slowly cooked in a rich and warming broth flavored with a generous portion of tangy fresh ginger, chunky and sweet pieces of carrot, onion, and just a hint of hot chili. The result is a very special chicken soup with an almost medicinal nature that is sure to cure whatever ails you, even if you are just plain hungry and need an easy pot of something for dinner.
Ingredient List:

What's in our Ginger Chicken Soup.
6 - 8 Chicken Thighs

4 Cups Carrot


(cut into chunky pieces)
2 Cups Ginger
(peeled and sliced into 1/4 inch slices)

1 Brown or Yellow Onion


(cut into quarters)

8 Green onions

2 Tablespoons Light Soy Sauce
2 Tablespoons Oyster Sauce

1 Tablespoon Sugar

1 - 2 teaspoons Fish Sauce
(as needed for salt)

1/4 Cup Vegetable Oil

6 Cups Water


(or as needed)
Basic Directions:

How we make our Ginger Chicken Soup.
1) Cut the chicken and brown it in oil, then drain well.

2) Add water, sugar, and oyster sauce to a big pot and bring to a boil until sugar dissolves. Add everything else to the pot and cover with more water.

3) Simmer for 45 minutes or until carrots are cooked. Serve.
Jump to the detailed step-by-step method.
Our YouTube Channel features videos produced by Worawut and the team at
Baan Worawut
, our local Chiang Mai fast food restaurant. The recipes include some the most popular dishes we serve, family favorites from home, as well as a few more complicated Thai recipes that require hours to prepare.
Watch the Complete Video Lesson:
Subscribe, Follow, or Share:
Access 100 Free Thai Cooking Lessons:
Like this recipe? Please share it!
Please rate this recipe by giving it from 1 to 5 Stars: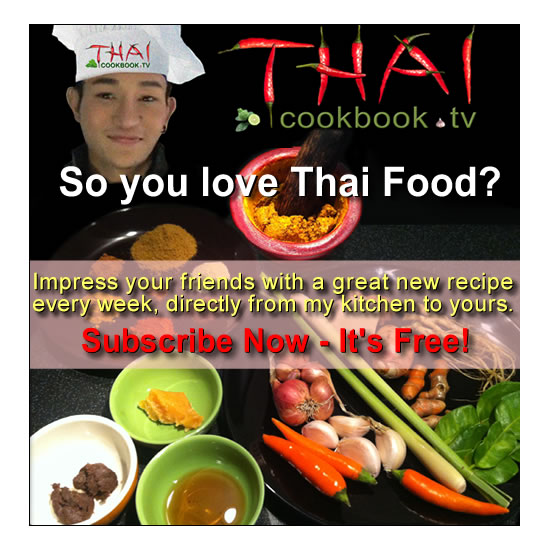 How to Make Tom Khing Gai
Detailed Step-by-step Method:
Print these instructions >
Step 1
Cut the whole chicken legs, cracking the bone with a meat cleaver or heavy knife into 2 or 3 pieces each.
---
Step 2
Marinate the chicken in 2 tablespoons of soy sauce for 20 minutes.
---
Step 3
While the chicken is marinating, peel and cut the carrot into chunky pieces, enough so you have about 4 cups of carrot. Peel the ginger and slice it into 1/4 inch thick pieces. Peel the onion and cut into quarters. Chop the bottom portion of the green onions into very fine pieces, saving the tops cut into one inch long pieces. Chop the chilies very fine.
---
Step 4
Add the oil to a wok or deep frying pan. Fry the chicken until it is well browned, then remove it and drain the oil.
---
Step 5
Add 2 cups of water to a big soup pot with a lid. Add the sugar and oyster sauce and bring to a boil until the sugar is melted.
---
Step 6
Add the browned chicken, carrot, ginger, onion, chopped green onion and chili to the pot. Add more water until everything is barely covered.
---
Step 7
Bring to a hard boil, then reduce the heat and simmer, covered, for 45 minutes.
---
Step 8
Taste the broth for correct seasoning. If it needs salt add a little fish sauce until the flavor is right for you. Use salt if you prefer, but the broth should not be too salty.
---
Step 9
Serve in a nice bowl and top with pieces of green onion. Garnish with parsley or coriander tops.
---
Support Thai Cookbook TV
If you like our site, and think our recipes are helping you to enjoy delicious Thai foods at home, please buy us a coffee break using the link below. If you donate, you will receive an enhanced user experience on this website.

Click for details!