Authentic Thai Recipe for Stir Fried Morning Glory
Stir Fried Morning Glory
ผัดผักบุ้งไฟแดง่ ( Pad Pak Boong Fai Daeng )
Added on November 1, 2013
Currently rated:


Rated 4.5 Stars from 4470 reader reviews
Yield: 3 - 4 servings
Prep time: 5 Minutes
Cooking time: 2 - 3 Minutes
Ready in: 10 Minutes
This simple yet delicious stir fried vegetable side dish made with Pak Boong (ผักบุ้ง; Water Morning Glory; Water Spinach) is one of Thailand's most popular foods. We think it should be on every first-time visitor's "must eat" list, as it is difficult to find at restaurants in the west. Seasoned with soy bean paste, garlic, chilies, soy sauce, and oyster sauce, the salty-spicy-sour-and-crunchiness of Pad Pak Boong Fai Daeng is great as a side dish or all by itself.
Ingredient List:

What's in our Stir Fried Morning Glory.
Basic Directions:

How we make our Stir Fried Morning Glory.
1) Cut the morning glory into 4 inch long pieces and place it in a bowl. Then measure the sauce ingredient and also put those in the bowl. Break up the garlic and chilies and add them to the top of the bowl.

2) Heat the oil in a large wok until very hot, then all at once add the contents of the bowl. Stir and fry quickly, turning for the bottom until the morning glory is wilted.

3) Serve inmediately.
Jump to the detailed step-by-step method.
Our YouTube Channel features videos produced by Worawut and the team at
Baan Worawut
, our local Chiang Mai fast food restaurant. The recipes include some the most popular dishes we serve, family favorites from home, as well as a few more complicated Thai recipes that require hours to prepare.
Watch the Complete Video Lesson:
Subscribe, Follow, or Share:
Access 100 Free Thai Cooking Lessons:
Like this recipe? Please share it!
Please rate this recipe by giving it from 1 to 5 Stars: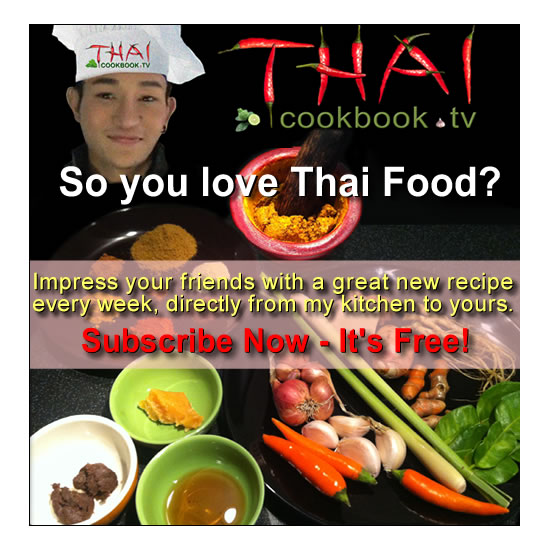 How to Make Pad Pak Boong Fai Daeng
Detailed Step-by-step Method:
Print these instructions >
Step 1
Clean the Pak Boong, then cut into 4 inch long pieces, leaving the top section and leaves a little longer.
---
Step 2
Using a mortar and pestle, or a garlic press, break up the garlic into small pieces.
---
Step 3
Break the chilies open, just enough to let some of the juices come out, leaving the body of the chili intact.
---
Step 4
Put the Pak Boong into a bowl, then put all the other ingredients except the oil on top.
---
Step 5
Heat the oil in a deep frying pan or wok until it's really hot, but not burning. Dump the bowl of ingredients up-side-down into the pan, so that the sauces are on the bottom. Quickly stir it up so it cooks evenly.
---
Step 6
It only takes a minute or so to cook, so be careful not to leave it on the heat too long. You'll know it's done when the the larger leaves are getting wilted, but the stalks are still very stiff.
---
Step 7
Remove from the heat and serve immediately.
---
Step 8
Alternate recipe: If you can't find water spinach in your area, try this recipe using regular spinach. It looks about the same and taste very similar.
---
Support Thai Cookbook TV
If you like our site, and think our recipes are helping you to enjoy delicious Thai foods at home, please buy us a coffee break using the link below. If you donate, you will receive an enhanced user experience on this website.

Click for details!