Authentic Thai Recipe for Phuket Style Pineapple Salad
✔

You gave this recipe a 4 star rating.
Phuket Style Pineapple Salad
ยำสับปะรดภูเก็ต ( Yum Saparot Phuket )
Added on September 15, 2015
Currently rated:


Rated 4.5 Stars from 2133 reader reviews
Yield: 1 - 2 serving
Prep time: 30 Minutes
Ready in: 30 Minutes
This Thai style pineapple salad makes a lovely lunch when served this way out of a pineapple bowl, but the salad itself is so delicious you won't miss it when served on a plate. Succulent shrimp and juicy shredded chicken breast are combined with chunks of pineapple, toasted coconut, peanuts, green onion, and crispy deep-fried shallots. The dressing has a crisp and clean sweet, sour, and slightly spicy flavor that provides a nice balance to the main ingredients. We make it with fresh lime juice, sugar, fish sauce, and our roasted chili sauce called Nam Prik Pao.
Ingredient List:

What's in our Phuket Style Pineapple Salad.
Basic Directions:

How we make our Phuket Style Pineapple Salad.
1) Prepare the main ingredients by boiling the chicken breast and shrimp, toast the coconut and peanuts, and fry the shallots.

2) Slice the side off a whole pineapple, then remove the pineapple fruit to create a bowl. Cut the pineapple into bite sized pieces.

3) Stir the sugar, fish sauce, roasted chili sauce, tamarind paste, and lime juice together to make the dressing, then toss together with cut pineapple, cooked and shredded chicken breast, cooked shrimp, toasted coconut, chopped peanuts, dried shrimp, and chopped green onion.

4) Arrange the salad in the pineapple bowl, with some lettuce leaves on the side and top with crispy fried shallots.
Jump to the detailed step-by-step method.
Our YouTube Channel features videos produced by Worawut and the team at
Baan Worawut
, our local Chiang Mai fast food restaurant. The recipes include some the most popular dishes we serve, family favorites from home, as well as a few more complicated Thai recipes that require hours to prepare.
Watch the Complete Video Lesson:
Subscribe, Follow, or Share:
Access 100 Free Thai Cooking Lessons:
Like this recipe? Please share it!
Please rate this recipe by giving it from 1 to 5 Stars: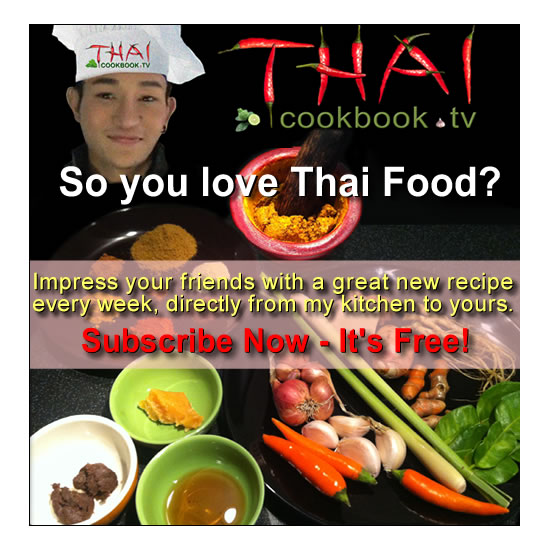 How to Make Yum Saparot Phuket
Detailed Step-by-step Method:
Print these instructions >
Step 1
If possible, use a whole pineapple with the stem and top on. It makes a nice way to serve it and it looks very authentic. If fresh pineapple is not available, you can use canned pineapple, but get the kind without added sugar.
---
Step 2
The secret to making a delicious dressing for this salad is the Nam Prik Pao. There are many different types sold and a wide range of flavors. I use my own homemade roasted chili sauce that has a delicious dark orange oil and a sweet and smokey flavor. Here is the Recipe.
---
Step 3
Using a small non-stick frying pan, heat the dry shredded coconut over low heat. Stir constantly until it is evenly browned. You want a light golden brown color for the best flavor, so cooking it slowly over lower heat will give you the best results.
---
Step 4
Clean the pan, then add the whole, raw peanuts. Cook them over medium heat until they start to brown in some spots, turning as much as possible to get a few cooked spots around the nut.
---
Step 5
Peel and slice the shallots, thinly and evenly. The secret to making fried shallots come out is to make all the slices the same thickness. About 1/8 inch thick works well. Next, clean and dry the pan, then add about 1/4 cup of vegetable oil. Heat over medium flame until it gets hot, but not smoking. Add the shallots and fry them for about 1 minute or until they are just starting to brown, stirring constantly. As soon as the bubbling slows, they are done. Remove them promptly to prevent burning, and place them on a paper towel to absorb the excess oil. The goal is to make crispy, golden brown shallots, so you may need to try this step more than once.
---
Step 6
Cut the chicken breast into several strips and boil it in plain water for about 5 minutes, or until completely cooked.
---
Step 7
Clean the pot, start with fresh water, and bring it to a hard boil. Add the shrimp to the rapidly boiling water. They will cook quickly, in usually less than a minute. When they are curled up and turn pink they are done. Remove from the hot water and place them in a bowl of cold water with ice cubes to stop them from cooking anymore. Overcooking the shrimp will make them tough.
---
Step 8
When the boiled chicken has cooled enough to handle, tear it into small shreds.
---
Step 9
If using a fresh pineapple, lay it flat and decide which side should be up, depending on how it lays on the table. You do not want the pineapple to roll over after the salad is in it, so take some time to pick the right side, then slice off the top side to open the bowl.
---
Step 10
Use a small knife to cut around the inside at an angle so you have a wedge of pineapple that can easily be pulled out.
---
Step 11
Pull the piece out, then scoop out the rest of the pineapple until you have a nice hollow space to hold the salad. You'll have more pineapple than you need, and the part you scrape out of the bottom can be saved and used for something else.
---
Step 12
Cut the large piece that you removed earlier into bite sized pieces. You need about 1 cup of cut pineapple.
---
Step 13
Coconut sugar dissolves easily when used in cooked foods, but can take a while at room temperature. Just add about 2 teaspoons of water to the 1 tablespoon of coconut sugar in a small bowl, and heat it in your microwave for about 15 seconds, just enough to warm a little, then stir it up to make a thick syrup.
---
Step 14
Using a mortar and pestle, grind the toasted peanuts until the are chunky.
---
Step 15
Next grind the dried shrimp, just until they are flaky on the outside to soften them up a little. Also chop the green onions, and squeeze some lime juice.
---
Step 16
In a large mixing bowl, blend the sugar syrup, fish sauce, roasted chili sauce, tamarind paste, and about 1 - 2 teaspoons of lime juice. Taste the mixture, then add more lime only if you think it needs it. Some people will prefer more fish sauce for salty flavor, or lime juice for sour. Just add a little of each until you are happy with the way it tastes and the flavors are balanced.
---
Step 17
Start by stirring the shredded chicken, cooked shrimp, and pineapple into the dressing until everything is well coated., then add toasted coconut, peanuts, dried shrimp, and chopped green onion. Toss well until thoroughly blended.
---
Step 18
Arrange the ingredients into the pineapple bowl, or on a plate.
---
Step 19
Stick a few nice lettuce leaves into the bowl on one side, and sprinkle the fried shallots over the top.
---
Step 20
Serve on a nice platter, with the "lid" of the bowl on the side.
---