Authentic Thai Recipe for Green Apple Salad
Green Apple Salad
ส้มตำแอปเปิ้ล ( Apple Som Tum )
Added on November 27, 2016
Currently rated:


Rated 4.5 Stars from 2934 reader reviews
Yield: 1 serving
Prep time: 5 Minutes
Ready in: 5 minutes
Som Tum is a traditional Thailand-style salad, usually made with green, unripened papaya. In some modern Thai recipes other fruits and vegetables are now used, creating a fusion with western flavors. This green apple salad recipe has a dressing made with tamarind fruit, lime juice, toasted rice, coconut sugar, fresh spearmint, and a small pinch of hot chili. It's has a delicious combination of sweet and sour, nutty, minty, and slightly spicy flavors, yet it is also fresh and clean, allowing the crisp and tart taste of a perfect Granny Smith green apple to come through.
Ingredient List:

What's in our Green Apple Salad.
Basic Directions:

How we make our Green Apple Salad.
1) Prepare the dressing by combining fish sauce, sugar, tamarind paste, lime juice, toasted ground rice, and chili flakes.

2) Prepare the apple by slicing it into thin julienne style strips. You can also dice or slice the apple in any other way you prefer.

3) Plate the apple and top with dressing. Sprinkle with a little toasted rice and chili flake. Serve with lime wedge on the side.
Jump to the detailed step-by-step method.
Our YouTube Channel features videos produced by Worawut and the team at
Baan Worawut
, our local Chiang Mai fast food restaurant. The recipes include some the most popular dishes we serve, family favorites from home, as well as a few more complicated Thai recipes that require hours to prepare.
Watch the Complete Video Lesson:
Subscribe, Follow, or Share:
Access 100 Free Thai Cooking Lessons:
Like this recipe? Please share it!
Please rate this recipe by giving it from 1 to 5 Stars: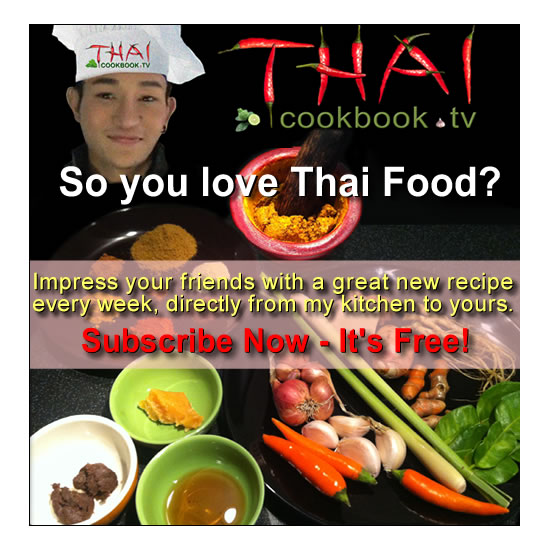 How to Make Apple Som Tum
Detailed Step-by-step Method:
Print these instructions >
Step 1
This combination of ingredients will produce a nice dressing with plenty of flavor. However, in Thailand most salads are custom-made to order so you can tell the cook you want more chili, it sweeter, etc. I use just a little hot chili so it is spicy, but not too much so it overwhelms the other flavors. You can leave the chili out if you don't like spicy foods, and it will still be delicious.
---
Step 2
Combine the coconut sugar with fish sauce in a microwave-safe bowl. Heat on low for a minute or so, just until the sugar melts and blends with the fish sauce to make a thick syrup. You can also use a small pan over low flame. Heat it slowly so it doesn't boil or scorch.
---
Step 3
Stir the syrup well to be sure that all the sugar has dissolved, then allow it to cool.
---
Step 4
Pluck the whole mint leaves from the stems, saving a few sprigs to use later as a garnish.
---
Step 5
After the fish sauce syrup has cooled down to slightly warm, add the tamarind paste, lime juice, toasted and ground rice, and chili flakes. Stir until well blended, then sit aside while you prepare the apple.
---
Step 6
You can cut your apple in a variety of ways, either dice it or slice it. I like to use a very small julienne style shredder, so the salad is more like a slaw. Here I shred the apple on one side until it almost reaches the core.
---
Step 7
Next cut the second half off, leaving the thick slice from the center.
---
Step 8
Continue shredding the second half of the apple until you have just a small pice left, then cut that piece in two.
---
Step 9
You can just shred or cut the whole apple, but I think it's nice to arrange the pieces on the side so you can see that it is a green apple dish.
---
Step 10
Pile the shredded apple on loosely so the dressing can flow through everywhere.
---
Step 11
Stir the fresh mint leaves into the dressing lightly.
---
Step 12
Now spoon the dressing over the shredded apple, and drizzle some around the plate.
---
Step 13
Sprinkle with a little more toasted ground rice over everything. Note: This rice is a packaged product that is available in the spices section of supermarkets in Thailand. It is quite easy to make. Heat raw white rice kernels in frying pan over low flame. Keep stirring and shaking until the rice becomes golden brown. Allow it to cool, then grind using a mortar and pestle.
---
Step 14
Garnish with a sprig of fresh mint, and sprinkle a little hot chili flake over it all, if desired. Serve with lime wedges and extra chili flake on the side.
---
Support Thai Cookbook TV
If you like our site, and think our recipes are helping you to enjoy delicious Thai foods at home, please buy us a coffee break using the link below. If you donate, you will receive an enhanced user experience on this website.

Click for details!