Authentic Thai Recipe for Spicy Mixed Fruit Salad
Spicy Mixed Fruit Salad
ส้มตำผลไม้ ( Som Tum Pon La Mai )
Added on August 27, 2015
Currently rated:


Rated 4 Stars from 2320 reader reviews
Yield: 2 - 4 servings
Prep time: 10 Minutes
Ready in: 10 Minutes
This delicious Thailand-style fruit salad can be made with many different types of fruit. In this version we used big juicy chunks of Guava, green Apple, Pineapple, Rose Apple, seedless Grapes, and cherry Tomatoes. It's quite simple to make, and is a very nice and completely authentic Thai dish to serve for lunch or with a meal. The salad dressing has a delicious sweet and sour flavor with just a hit of hot chili. You can add more chili, or leave it out entirely to suit your own particular tastes.
Ingredient List:

What's in our Spicy Mixed Fruit Salad.
Basic Directions:

How we make our Spicy Mixed Fruit Salad.
1) Cut the fruit into bite-sized pieces.

2) Pound the dried shrimp in a mortar until flaky, then grind them together with the hot chilies until the chilies are well broken up. Mix in the fish sauce, sugar and lime juice. Keep pounding until the sugar dissolves and the dressing is smooth and creamy.

3) Toss the fruits together in a large bowl. Gently stir in the dressing until the fruit is well coated. Serve with lime wedges, garnish with fresh mint.
Jump to the detailed step-by-step method.
Our YouTube Channel features videos produced by Worawut and the team at
Baan Worawut
, our local Chiang Mai fast food restaurant. The recipes include some the most popular dishes we serve, family favorites from home, as well as a few more complicated Thai recipes that require hours to prepare.
Watch the Complete Video Lesson:
Subscribe, Follow, or Share:
Access 100 Free Thai Cooking Lessons:
Like this recipe? Please share it!
Please rate this recipe by giving it from 1 to 5 Stars: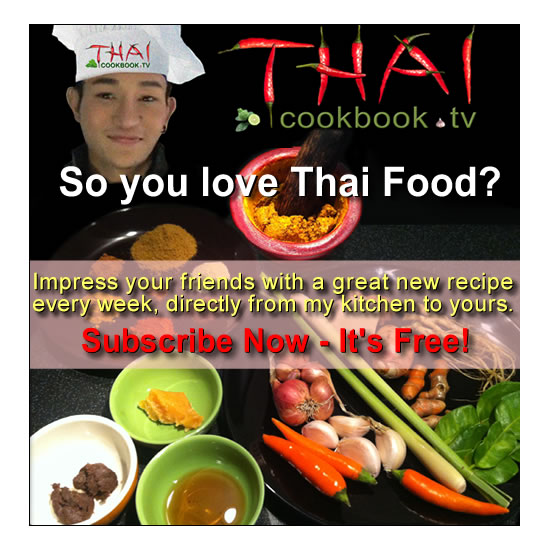 How to Make Som Tum Pon La Mai
Detailed Step-by-step Method:
Print these instructions >
Step 1
Use this recipe to make a delicious fruit salad with a variety of fruits. Here we used a Granny Smith apple, green Guava, Rose Apple, Pineapple, Cherry Tomatoes, and seedless Black Grapes, but you can use whatever you have on hand. For best results, use fruit that is still very firm, or not quite as ripe as you might normally want it to be.
---
Step 2
Cut your fruit into bite-sized pieces. If using grapes, leave them whole. If using cherry tomatoes, just cut them in half, but if using a large tomato cut it into cubes like the rest of the fruit. Squeeze about 3 tablespoons of fresh lime juice.
---
Step 3
A traditional Thai fruit Som Tum will be on the spicy side, so we use 4 - 5 Thai hot chilies. You can leave the chilies out if you want, or use more for a very spicy salad.
---
Step 4
The small dried white shrimp are an important ingredient in Som Tum. They are not fishy, they taste like shrimp and add a nice flavor when blended with the chili, salty fish sauce, and coconut sugar. Pound them using a mortar and pestle until they become a little flaky and broken up.
---
Step 5
Add the chilies to the shrimp and continue grinding both until the chilies are well broken. The finer you grind the chilies, the spicier the dressing will be.
---
Step 6
Add the sugar, fish sauce, and lime juice to the chili and shrimp mixture, and use the pestle to mash them all together into a smooth and creamy paste.
---
Step 7
Keep stirring and mashing until all the the sugar is dissolved.
---
Step 8
Toss all the fruits together until we blended, then stir in the dressing until everything is thoroughly coated.
---
Step 9
Arrange the fruit on a small plate so the different types of fruit are evenly distributed, then garnish with a couple of lime wedges and a sprig of mint.
---