Authentic Thai Recipe for Fried Egg over Rice
Fried Egg over Rice
ไข่ดาว ( Kai Dow )
Added on February 9, 2015
Currently rated:


Rated 4.5 Stars from 3433 reader reviews
Yield: 1 serving
Prep time: 1 Minutes
Cooking time: 2 - 3 Minutes
Ready in: Less than 5 Minutes
In Thailand, ordering a fried egg (Kai Dow) on top of your spicy-hot one-dish meal is about as ordinary as when you order french fries with your cheeseburger. The two just go together so well. We know that you might think it kind of weird that we want to show you how to fry an egg, because everybody knows how to fry an egg, right? But in Thailand we are very particular about our everyday foods, and Kai Dow is no exception. If you are ever lucky enough to fry an egg for a Thai friend, watch this video first for some easy to learn tips.
Ingredient List:

What's in our Fried Egg over Rice.
Basic Directions:

How we make our Fried Egg over Rice.
1) Heat 1/2 cup of oil in a deep frying pan.

2) Add the egg and fry on one side for about a minute.

3) Avoid splashing hot oil over the egg so it stays bright yellow.

4) Cook until the edges and bottom are golden brown and crispy.

5) Serve over hot steamed rice, with cucumber and chili fish sauce.
Jump to the detailed step-by-step method.
Our YouTube Channel features videos produced by Worawut and the team at
Baan Worawut
, our local Chiang Mai fast food restaurant. The recipes include some the most popular dishes we serve, family favorites from home, as well as a few more complicated Thai recipes that require hours to prepare.
Watch the Complete Video Lesson:
Subscribe, Follow, or Share:
Access 100 Free Thai Cooking Lessons:
Like this recipe? Please share it!
Please rate this recipe by giving it from 1 to 5 Stars: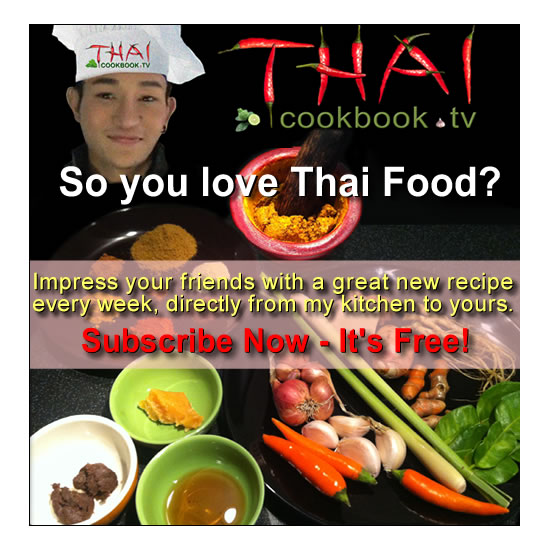 How to Make Kai Dow
Detailed Step-by-step Method:
Print these instructions >
Step 1
Heat oil in a large wok or frying pan, over medium to high heat. Add one egg. Let the egg float on the deep oil. Move it around to prevent sticking. Fry the egg on one side only for about 2 minutes, letting it get golden brown on the bottom. Avoid splashing hot oil over the top of the egg so the yolk remains bright yellow and uncooked.
---
Step 2
The finished egg should have crispy brown edges, be well browned on the bottom, but on top it will resemble a "sunny-side up" fried egg. This is the most common way eggs are prepared in Thailand. However, some people like the egg fully cooked. In this case it is turned over and browned well on both sides.
---
Step 3
To season the egg, we will use a little fish sauce with some hot chili added. We call this Prik Nam Blah, and it is probably one of the most common condiments found at a Thai dinner table. Just cut a couple of Thai hot chilies into thin slices and add fish sauce.
---
Step 4
Because this Kai Dow is being served as a one-dish meal with rice, it's common to serve some fresh vegetable son the side. Here I used some cucumber wedges, but spring onions or any crisp vegetable will be nice. Some people like some fresh lime to squeeze over their fried egg.
---
Step 5
Serve the egg on top of some hot rice, and arrange the vegetables so they look nice.
---
Step 6
Enjoy with Prik Nam Blah, spicy-sweet ketchup, or other condiment.
---
Support Thai Cookbook TV
If you like our site, and think our recipes are helping you to enjoy delicious Thai foods at home, please buy us a coffee break using the link below. If you donate, you will receive an enhanced user experience on this website.

Click for details!