Authentic Thai Recipe for Stir-fried Eggplant with Chopped Pork
Stir-fried Eggplant with Chopped Pork
ผัดมะเขือยาวหมูสับ ( Pad Makua Yao Moo Sap )
Added on December 16, 2015
Currently rated:


Rated 4.5 Stars from 2475 reader reviews
Yield: 2 - 4 servings
Prep time: 5 minutes
Cooking time: 7 Minutes
Ready in: 12 Minutes
This delicious Thai stir fry makes a wonderful lunch when served with some piping hot steamed rice, or serve it as a main dish with other foods for a complete meal. This recipe combines our beautiful bright green eggplant, the one called Makua Yao, with lean ground pork, sweet basil, mild chilies, and pea eggplants. It is quite simple to make, and you can easily substitute ground beef or chicken if you do not eat pork for an equally satisfying dish.
Ingredient List:

What's in our Stir-fried Eggplant with Chopped Pork.
Basic Directions:

How we make our Stir-fried Eggplant with Chopped Pork.
1) Fry garlic until fragrant, then add the ground meat. Fry until well browned.

2) Add the sauces and sugar, continue frying until caramelized, then add a small amount of water.

3) Add the eggplant, cover with a lid, and cook for 5 minutes

4) Add the chili and pea eggplants. Continue cooking for another minute. Turn off the heat and toss in the basil. Serve immediately.
Jump to the detailed step-by-step method.
Our YouTube Channel features videos produced by Worawut and the team at
Baan Worawut
, our local Chiang Mai fast food restaurant. The recipes include some the most popular dishes we serve, family favorites from home, as well as a few more complicated Thai recipes that require hours to prepare.
Watch the Complete Video Lesson:
Subscribe, Follow, or Share:
Access 100 Free Thai Cooking Lessons:
Like this recipe? Please share it!
Please rate this recipe by giving it from 1 to 5 Stars: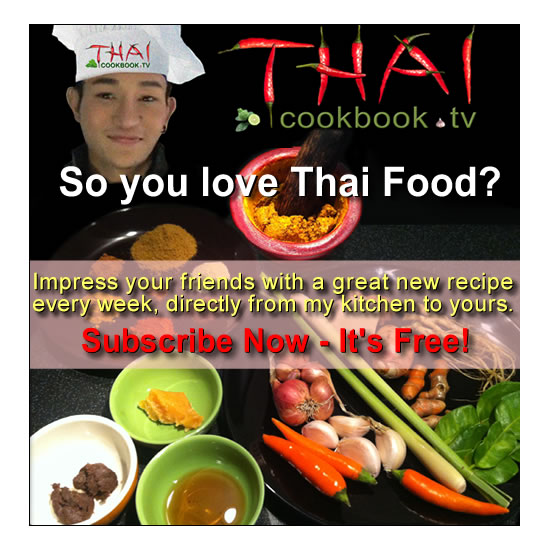 How to Make Pad Makua Yao Moo Sap
Detailed Step-by-step Method:
Print these instructions >
Step 1
In Thailand we generally use the long green eggplant for this dish, but you can use other types, such as the purple Japanese eggplant, and the dish will still come out great.
---
Step 2
The small pea eggplants are added near the end and cooked just a little so they stay crunchy and add great texture to the dish. If you do not have access to pea eggplants you can leave them out.
---
Step 3
We cut the eggplant into 1 inch slices, then quarter each slice so it is in nice bite sized pieces. How you cut your eggplant will depend on the type you use, so just cut it into 1 inch cubes if you are using big eggplants.
---
Step 4
Put the cut eggplant into a bowl of salted water to keep them from turning brown while you get the rest of the ingredients ready. Pluck the stems and hulls from the pea eggplants, slice chilies on a diagonal, and chop the garlic very fine.
---
Step 5
Pluck the leaves and flower tops from the Thai sweet basil. We are using the type of basil that we call Horapah, which has a strong flavor of licorice or anise. This give the dish a very distinct flavor, so be sure you have the right type.
---
Step 6
Fry the garlic in oil over low heat for a few seconds.
---
Step 7
Add the ground meat (pork, beef, or chicken), turn the heat up high, and fry it until well browned.
---
Step 8
Add the sauces and sugar, stir it in well, and continue frying until the thick and sticky.
---
Step 9
Fry the meat until edges of the pan are dry and looking like it's burning, then add a tablespoon of water. Stir it in well to deglaze the pan and develop a nice sauce in the meat.
---
Step 10
Add the cut green eggplant, stir it in well and reduce the heat to medium.
---
Step 11
Cover with a lid and cook for about 5 minutes, stirring it up every so often. Add just a little water to the pan as need to maintain a little sauce.
---
Step 12
Add the cut chilies ad pea eggplants, stir them in well, cover and cook for about a minute.
---
Step 13
Now the chilies and pea eggplants are just barely cooked. Turn off the heat.
---
Step 14
Add the basil and stir it in lightly, letting it wilt in the residual heat of the pan.
---
Step 15
Serve each portion on a small plate with some steamed rice for a delicious one dish meal, or on a plate to be served at the tables as part of a complete meal with other foods.
---
Step 16
Arrange the ingredients so they look delicious, and garnish with some fresh basil tops.
---
Support Thai Cookbook TV
If you like our site, and think our recipes are helping you to enjoy delicious Thai foods at home, please buy us a coffee break using the link below. If you donate, you will receive an enhanced user experience on this website.

Click for details!