Authentic Thai Recipe for Chicken with Lemongrass Sauce
Chicken with Lemongrass Sauce
ผักไก่ตะไคร ( Pad Gai Da Krai )
Added on March 23, 2015
Currently rated:


Rated 4.5 Stars from 2648 reader reviews
Yield: 2 - 4 servings
Prep time: 15 Minutes
Cooking time: 5 Minutes
Ready in: 20 Minutes
This delicious recipe is made by sauteing juicy chunks of chicken breast in ground lemongrass, kaffir lime leaves, and garlic. The rich and flavorful sauce that results has flecks of green, yellow, and brown, and so much authentic Thai flavor that you'll probably wonder why you've never seen it before. True, it's not something that you'll find on the menu at your favorite street food place, but we've been making it for years and I'm happy to share it with you now.
Ingredient List:

What's in our Chicken with Lemongrass Sauce.
Basic Directions:

How we make our Chicken with Lemongrass Sauce.
1) Cut the chicken into small cubes.

2) Chop and grind the lemongrass, kaffir lime leaves, shallots, and garlic. Then pound them all together into a fine herb paste.

3) Heat oil in a wok over low flame, then fry the herb paste slowly for about 30 seconds.

4) Add the chicken and stir in well. Fry for about 5 minutes, keeping the heat low, then add a small amount of water to make a sauce.

5) Toss in the peppers. Cook for 30 seconds, then serve. Garnish with slivered kaffir lime leaf and cilantro.
Jump to the detailed step-by-step method.
Our YouTube Channel features videos produced by Worawut and the team at
Baan Worawut
, our local Chiang Mai fast food restaurant. The recipes include some the most popular dishes we serve, family favorites from home, as well as a few more complicated Thai recipes that require hours to prepare.
Watch the Complete Video Lesson:
Subscribe, Follow, or Share:
Access 100 Free Thai Cooking Lessons:
Like this recipe? Please share it!
Please rate this recipe by giving it from 1 to 5 Stars: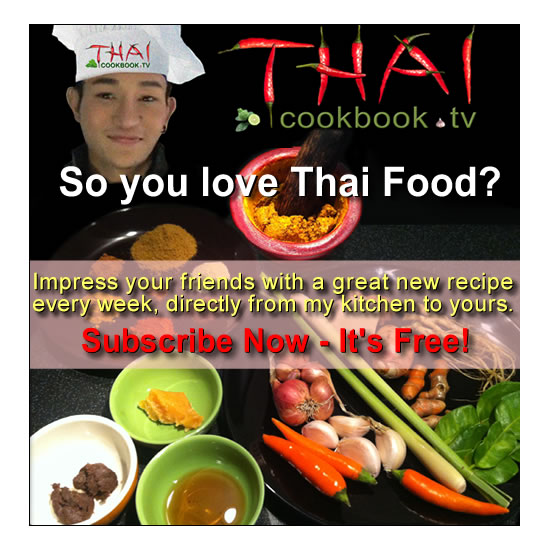 How to Make Pad Gai Da Krai
Detailed Step-by-step Method:
Print these instructions >
Step 1
Wash the chicken breast meat and remove the skin, then cut it into bite-sized pieces. Slice about 5 - 6 stalks of lemongrass, then chop or grind them into a very fine pulp. You need about 1/2 cup of ground lemongrass. Remove the center stems from about 20 kaffir lime leaves, then chop or grind them very fine. You need about 1/4 cup of ground kaffir lime leaves. Finely chop 1/4 cup of shallots and 1/4 cup of garlic. Slice the mild red peppers diagonally. Cut 2 kaffir lime leaves into very thin slivers. Measure and have ready the sugar and sauces.
---
Step 2
Use a grinder or chopper to get the lemongrass and kaffir lime leaves as fine as possible. Also chop the garlic and shallots very fine. Then, pound everything together using a mortar and pestle until you get a very fine green paste.
---
Step 3
Add oil to a wok or pan over low heat. Then add the herb paste to the oil and stir it together. After it starts sizzling, cook slowly for about 30 seconds, stirring constantly. Be careful not to get it too hot, or you will spoil the flavors.
---
Step 4
Stir the chicken into the herb and oil mixture until it is well coated, then fry slowly until the chicken is done. It will take about 5 minutes or so, but keep the heat low and don't hurry.
---
Step 5
When you can see that the chicken is nearly cooked all the way, add about 1/4 cup of water to loosen the the ingredients and make a nice rich sauce. Stir it up well and let it get hot again.
---
Step 6
Add the red peppers and toss stir everything from the bottom so they are well coated in the sauce. Cook for about a minute or so, until it all gets hot again. Do not overcook the peppers. You want them to have a little crunch.
---
Step 7
Serve on a small plate to be shared at the table. Garnish by sprinkling some slivered kaffir lime leaves and topping with some fresh cilantro.
---
Support Thai Cookbook TV
If you like our site, and think our recipes are helping you to enjoy delicious Thai foods at home, please buy us a coffee break using the link below. If you donate, you will receive an enhanced user experience on this website.

Click for details!