Authentic Thai Recipe for Chicken Wonton Soup
Chicken Wonton Soup
เกี๊ยวน้ำ ( Kiao Nam Gai )
Added on February 12, 2016
Currently rated:


Rated 4.5 Stars from 3364 reader reviews
Yield: 6 - 10 servings
Prep time: 30 minutes
Cooking time: 10 minutes
Ready in: Less than 45 Minutes
To make this delicious Thailand-style wonton soup we start by infusing the chopped chicken filling with the distinct Thai flavors of lemongrass, kaffir lime leaf, coriander root, and garlic, and serve them with crisp bok choy Chinese cabbage in a rich and fatty chicken broth. Like nearly all Thai soups, we season each bowl at the table with a selection of condiments to add spicy, sour, sweet, and salty flavors.
Ingredient List:

What's in our Chicken Wonton Soup.
For the Chicken Wontons
For the Chicken Broth
Basic Directions:

How we make our Chicken Wonton Soup.
1) Grind the lemongrass, kaffir lime leaf, garlic, and coriander root into a smooth paste. Blend the paste together with the chopped meat, green onion, tapioca flour, white pepper, fish sauce, and sesame oil, then fill and wrap the wontons.

2) Create the soup broth by adding coriander root, white pepper, garlic, oyster sauce, and soy sauce to unseasoned chicken or vegetable stock. Boil hard for 5 minutes.

3) In another pot, heat some water and boil the wontons for 5 minutes. Remove them and place in a serving bowl. Next, blanch the bok choy leaves for about a minute and place them in your bowls with the wontons. Spoon enough of the broth over the bowl to lightly cover the wontons and bok choy.

4) Top with chopped green onion and a sprinkle of finely ground white pepper. Serve with table condiments of your choice, including sun-dried red chili flakes, pickled green chilies, fish sauce with red chili, and sugar.
Jump to the detailed step-by-step method.
Our YouTube Channel features videos produced by Worawut and the team at
Baan Worawut
, our local Chiang Mai fast food restaurant. The recipes include some the most popular dishes we serve, family favorites from home, as well as a few more complicated Thai recipes that require hours to prepare.
Watch the Complete Video Lesson:
Subscribe, Follow, or Share:
Access 100 Free Thai Cooking Lessons:
Like this recipe? Please share it!
Please rate this recipe by giving it from 1 to 5 Stars: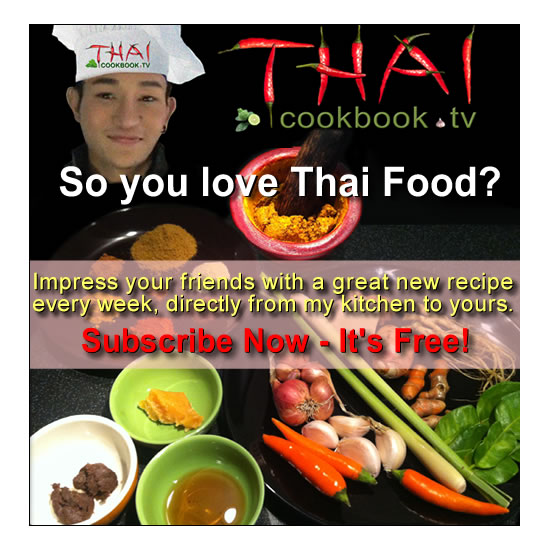 How to Make Kiao Nam Gai
Detailed Step-by-step Method:
Print these instructions >
Step 1
You might recognize these photos from my previous recipe for fried wontons. The ingredients for the wonton are exactly the same, so I made both from the same batch of filling.
---
Step 2
Cut the lemongrass, kaffir lime leaf, and coriander root into very small pieces.
---
Step 3
Grind it all together with a mortar a pestle until very smooth.
---
Step 4
If you have a food processor you can do this just fine. You want to have a smooth herbal paste.
---
Step 5
Mix the herb paste with the ground meat, along with chopped green onion, the tapioca starch, white pepper, fish sauce, and sesame oil until smooth.
---
Step 6
Lay a wonton wrapper in one hand and put 1 teaspoon of the filling in the middle.
---
Step 7
Dip your finger in water and wet two edges of the wrapper.
---
Step 8
Fold it over into an even triangle, squeeze out the air, then pinch the sides together until they form a solid seal. If you like to keep things easy you can leave them as triangles, or for a more decorative way follow the next steps.
---
Step 9
Point the folded side away from you in both hands, then slowly pinch and bend that side together until the tips meet. Go slowly and bend the edges up so they don't tear.
---
Step 10
When you get it close enough to touch, wet on tip and then stick them together well.
---
Step 11
The finished dumpling will look a little like a boat or flower.
---
Step 12
Do the whole batch before you start making the soup.
---
Step 13
Heat the chicken or vegetable stock in a large soup pot, then arrange the ingredients. Remove the leaves from the bok choy and wash them well.
---
Step 14
Cut the coriander root into very small pieces.
---
Step 15
Grind it together with the garlic until very smooth.
---
Step 16
When the stock is boiling, add the garlic and coriander root.
---
Step 17
Next add the oyster sauce, soy sauce, white pepper, and sugar. Stir it all up well and boil for about 5 minutes.
---
Step 18
In another large pot, boil some clean water. Add the wontons to the boiling water and cook them for about 5 minutes. Avoid stirring them too much so they don't get broken.
---
Step 19
Remove them from the water carefully and arrange 2 or 3 in small serving bowls.
---
Step 20
Next, blanch the bok choy leaves in the hot water for about a minute.
---
Step 21
Put 2 or 3 leaves in the bowls with the wontons, then pour some of the soup broth over it all.
---
Step 22
Put a few pieces of chopped green onion over the bowl, and sprinkle a dash or two of finely ground white pepper.
---
Step 23
Another main difference the distinguishes Thai soups from others are the four condiments that are always available. They are ground, sun-dried red hot chilies with the seeds left in, pickled hot chili, fish sauce with red red chili, and sugar. We use the dry chili flakes to add spiciness.
---
Step 24
The pickled chilies are in a vinegar base. They are not too spicy, and we use it to add a more sour flavor to the soup.
---
Step 25
Fish sauce with fresh hot chili is used to add both spicy flavors and salty flavors. Fish sauce is very salty and we use it on everything as needed instead of table salt. The last seasoning is just regular sugar.
---
Step 26
We use the 4 flavors of spicy, sour, salty, and sweet to customize every type of soup at the table.
---
Support Thai Cookbook TV
If you like our site, and think our recipes are helping you to enjoy delicious Thai foods at home, please buy us a coffee break using the link below. If you donate, you will receive an enhanced user experience on this website.

Click for details!