Authentic Thai Recipe for Bitter Gourd Soup
Bitter Gourd Soup
ต้มจืดมะระ ( Tom Juet Ma Ra )
Added on April 27, 2015
Currently rated:


Rated 4 Stars from 2405 reader reviews
Yield: 6 servings
Prep time: 20 Minutes
Cooking time: 1 1/2 Hours
Ready in: About 2 Hours
This delicious soup is made with the gourd that we call Ma Ra (มะระ) in Thai. Commonly known as Bitter Gourd, or Bitter Melon, it has a very bitter taste when raw, but after we stuff them with a delicious meat filling and slow cook them in a mild and soothing broth, the slight bitterness that remains only adds to the overall healthy and satisfied feeling most people have after eating it. In this recipe the meat filling is made with ground pork that has been seasoned with garlic, coriander root, soy sauce, oyster sauce, and sugar. To the meat mixture we add bean vermicelli noodles and some grated carrot. The stuffed gourds are then boiled slowly for 2 hours in a very mild, thin broth. It's just so good, and we highly recommend that you try it soon.
Ingredient List:

What's in our Bitter Gourd Soup.
Basic Directions:

How we make our Bitter Gourd Soup.
1) Clean the melon and remove the seeds. Cut it into 1 1/2 inch pieces, then scrape out the seeds and inner pulp. Pack each piece in salt and sit for 20 minutes.

2) Prepare the meat filling by combining crushed garlic, coriander root, soy sauce, oyster sauce, sugar, grated carrot, bean vermicelli and ground pork.

3) Rinse the melon pieces well to remove all the salt, then pack each piece with the meat filling.

4) Simmer the stuffed melon, sliced carrots and mushrooms in a lightly seasoned broth for 1 1/2 - 2 Hours.
Jump to the detailed step-by-step method.
Our YouTube Channel features videos produced by Worawut and the team at
Baan Worawut
, our local Chiang Mai fast food restaurant. The recipes include some the most popular dishes we serve, family favorites from home, as well as a few more complicated Thai recipes that require hours to prepare.
Watch the Complete Video Lesson:
Subscribe, Follow, or Share:
Access 100 Free Thai Cooking Lessons:
Like this recipe? Please share it!
Please rate this recipe by giving it from 1 to 5 Stars: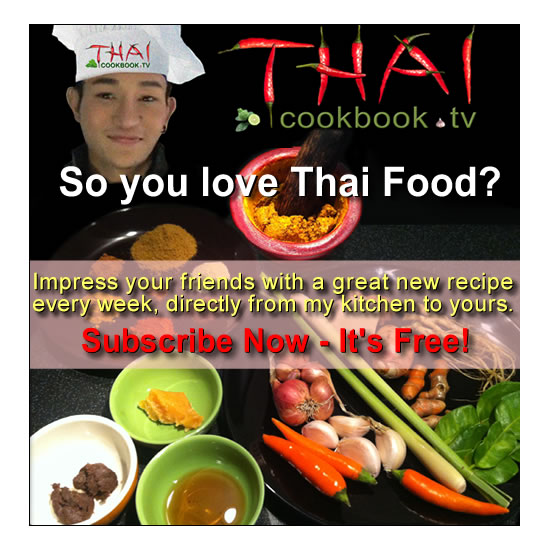 How to Make Tom Juet Ma Ra
Detailed Step-by-step Method:
Print these instructions >
Step 1
Slice the end portion off the bitter melon and discard them, then slice it across into pieces about 1 1/2 inch thick.
---
Step 2
Using a small knife and a spoon, remove the inner light green pulp and seeds. Scrape the pieces out thoroughly.
---
Step 3
Coat the melon pieces with a generous amount of salt. Pack it on there as much as possible. The salt will draw out most of the bitter flavor from the melon. Let them sit with the salt on for at least 20 - 30 minutes.
---
Step 4
Meanwhile, prepare the meat filling. Chop up the garlic and coriander root, grate the carrot, and measure the ingredients. If using dry bean vermicelli, just soak it in water according to the package directions. The one I'm using here is a soft kind that comes in the refrigerated section of the supermarket.
---
Step 5
Using a mortar and pestle, grind the garlic and coriander root together until you have a very fine paste.
---
Step 6
Mix the ground pork, the herbs and spices, and the carrot and glass noodles together in a medium bowl. This is like making a meatloaf. The noodles will cook up inside the meat and help hold it all together.
---
Step 7
Rinse away the salt and soak the melon pieces well to get rid of as much of the saltiness as you can. Then, use a small spoon and your fingers to pack each piece tightly with the meat filling. Pat on both sides so it's even and flat along the cut of the melon.
---
Step 8
Now prepare the ingredients for the soup. Clean and cut the mushrooms in half, and peel and slice the carrot. Measure the sauces, sugar, and white pepper.
---
Step 9
Add 2 cups of water to a big pot with a lid. Stir in the oyster sauce, soy sauce, pepper, and sugar. Heat until the sugar dissolves. Lay the stuffed melon with one meat side down. It's better to have a pot big enough so you can fit them all on one layer.
---
Step 10
Add the sliced carrots and mushrooms on top and push them between the melon wherever they will fit, then add enough water so everything is just barely covered. Bring the soup to a hard boil, then reduce the flame so it is barely bubbling. Simmer slowly like that for about 1 1/2 - 2 hours. The longer it cooks, the better it will taste. Keep the water level just covering the ingredients, adding more only if needed.
---
Step 11
When it's done you'll have a smooth light brown broth. Avoid adding anything else. The soup should be a little bland.
---
Step 12
Serve 2 pieces per serving in a small bowl with a couple pieces of carrot and mushroom. Cover halfway up the melon with broth so it is sticking out, not floating. Sprinkle with just a little ground white pepper. Garnish with coriander, parsley, or celery tops.
---