Authentic Thai Recipe for Sweet and Sour Eggs
Sweet and Sour Eggs
ไข่ลูกเขย ( Kai Look Kuey )
Added on April 13, 2015
Currently rated:


Rated 4.5 Stars from 2401 reader reviews
Yield: 6 servings
Prep time: 10 Minutes
Cooking time: 20 Minutes
Ready in: 30 Minutes
These delicious Thailand style sweet and sour eggs will make a very unique appetizer or hors d'oeuvre for your next party. A nice alternative to everyday deviled eggs, the eggs are soft-boiled first, then fried until crispy and browned on the outside. We top them with a simple but rich sweet and sour sauce made with tamarind pulp, some fried red shallots, and a few hot chilies. They are commonly known as Kai Look Kuey (Son In-law's Eggs)
Ingredient List:

What's in our Sweet and Sour Eggs.
Basic Directions:

How we make our Sweet and Sour Eggs.
1) Boil and peel the eggs.

2) Fry the peeled boiled eggs in oil until brown.

3) Fry the shallot and chilies in the remaining oil.

4) Cook the sugar, tamarind pulp and fish sauce to make the sweet and sour sauce.

5) Arrange and serve.
Jump to the detailed step-by-step method.
Our YouTube Channel features videos produced by Worawut and the team at
Baan Worawut
, our local Chiang Mai fast food restaurant. The recipes include some the most popular dishes we serve, family favorites from home, as well as a few more complicated Thai recipes that require hours to prepare.
Watch the Complete Video Lesson:
Subscribe, Follow, or Share:
Access 100 Free Thai Cooking Lessons:
Like this recipe? Please share it!
Please rate this recipe by giving it from 1 to 5 Stars: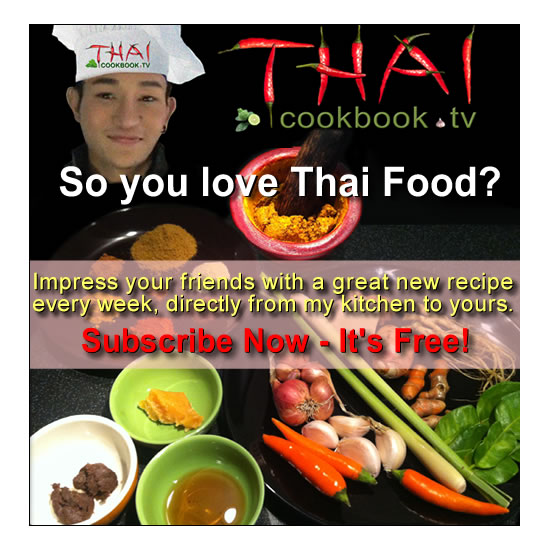 How to Make Kai Look Kuey
Detailed Step-by-step Method:
Print these instructions >
Step 1
Boil the eggs and peel them when cooled. Peel and slice the shallots very thin, enough so you get about 1/2 - 3/4 cup of sliced shallots. Measure and get ready the other ingredients.
---
Step 2
Heat the oil in a wok over low flame. Dry the eggs with a paper towel if they are wet, then add them to the oil carefully. Fry them slowly on all sides until they are golden brown and crispy on the outside.
---
Step 3
Fry the shallots in the oil left after frying the eggs until they are lightly browned. Remove from the pan immediately so they don't burn, and drain well.
---
Step 4
Next fry the dry chilies for about 30 seconds.
---
Step 5
Add the tamarind, sugar, and fish sauce to the remaining oil and stir in well until the sugar melts. Let it boil for about a minute until you have a rich and sticky sauce.
---
Step 6
Cut the eggs in half lengthwise and arrange them open face on a plate.
---
Step 7
Sprinkle the fry shallots over each egg half, then arrange the chilies on top.
---
Step 8
Drizzle the sauce over everything, just enough to cover them partially. Save the sauce that's left over for something else.
---
Step 9
Serve at room temperature. Garnish with cilantro just before serving.
---