Authentic Thai Recipe for Cucumber Relish
Cucumber Relish
อาจาด ( Ajaat; Ajad; Achad )
Added on August 7, 2014
Currently rated:


Rated 4.5 Stars from 2675 reader reviews
Yield: About 1 Cup
Prep time: 15 Minutes
Ready in: 30 Minutes
This bright, fresh, crisp, and delicious condiment or dipping sauce is incredibly easy to make. It's a must have when you are serving satays, but you'll also see it served as a condiment for other foods made with Thai yellow curry as the spice, such as Kaeng Kari Gai (Yellow Curry Chicken).
Ingredient List:

What's in our Cucumber Relish.
Basic Directions:

How we make our Cucumber Relish.
1) Dissolve the sugar and salt in the vinegar over low heat.

2) Slice the cucumber lengthwise into quarters, then slice very thin. Chop the shallots very fine. Slice the hot chilies very thin.

3) Add the fresh ingredients to the warm vinegar mixture. Let it cool slowly for about 15 minutes, then refrigerate.
Jump to the detailed step-by-step method.
Our YouTube Channel features videos produced by Worawut and the team at
Baan Worawut
, our local Chiang Mai fast food restaurant. The recipes include some the most popular dishes we serve, family favorites from home, as well as a few more complicated Thai recipes that require hours to prepare.
Watch the Complete Video Lesson:
Subscribe, Follow, or Share:
Access 100 Free Thai Cooking Lessons:
Like this recipe? Please share it!
Please rate this recipe by giving it from 1 to 5 Stars: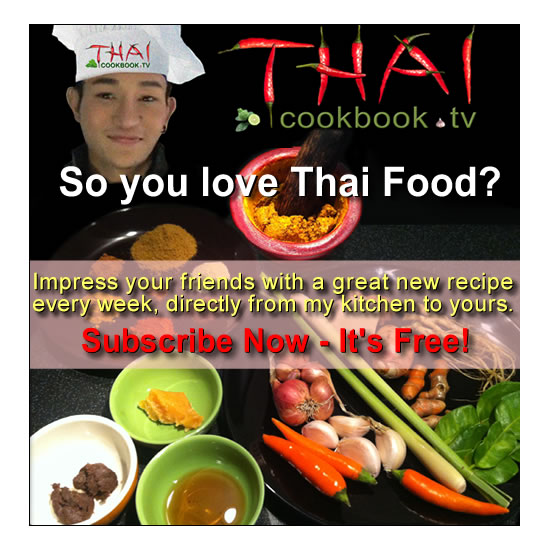 How to Make Ajaat; Ajad; Achad
Detailed Step-by-step Method:
Print these instructions >
Step 1
1) Heat the vinegar to almost boiling in a small saucepan. Add the sugar and salt, and boil slowly until all is dissolved. Remove from the heat and allow the mixture to cool to room temperature.

2) Add the cucumber, shallots, chili, and coriander leaves (cilantro) to the sweet and sour mixture. Let it sit at room temperature for about 15 minutes, then it's ready.

Note: I like to serve this really cold, but served at room temperature is also fine.
---
Support Thai Cookbook TV
If you like our site, and think our recipes are helping you to enjoy delicious Thai foods at home, please buy us a coffee break using the link below. If you donate, you will receive an enhanced user experience on this website.

Click for details!