Authentic Thai Recipe for Fish Sauce with Hot Chilies
Fish Sauce with Hot Chilies
พริกน้ำปลา ( Prik nam blah )
Added on January 21, 2015
Currently rated:


Rated 4.5 Stars from 2636 reader reviews
Yield: 1/2 cup
Prep time: 2 Minutes
Ready in: 2 Minutes
Prik nam blah (พริกน้ำปลา) is about as ordinary on a Thailand dining tables as is a bottle of ketchup or mustard at any good hot dog stand. Fortunately it's quite a bit easier to make than those western condiments. Just a little high-quality fish sauce and some of the good, very hot, Thai chilies that we call Prik Kee Nu. There are actually 2 types of chili that we use. The smaller variety called Prik Kee Nu Suan are so spicy that even most Thais don't eat them. Here we use the longer ones. But they are far from mild.
Ingredient List:

What's in our Fish Sauce with Hot Chilies.
Basic Directions:

How we make our Fish Sauce with Hot Chilies.
1) Cut a few red and green Thai hot chilies into neat little slices. Stir them into a quality Thai fish sauce and let them marinate for about an hour.

2) Keep refrigerated in a tightly closed container, but always serve at room temperature.
Jump to the detailed step-by-step method.
Like this recipe? Please share it!
Please rate this recipe by giving it from 1 to 5 Stars: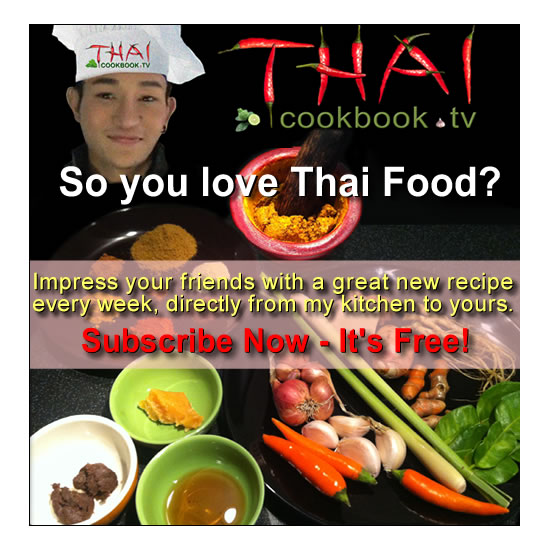 How to Make Prik nam blah
Detailed Step-by-step Method:
Print these instructions >
Step 1
Select a good, high quality fish sauce, from Thailand, for making Prik Nam Blah. I like to use chilies from green to red in color so it looks pretty, but it is more common to see this with the unripened green ones. The red ones are perceived to be hotter, but in fact they are all very hot anyway, so why not make it look nice.
---
Step 2
Put the fish sauce in a glass container with a lid. Cut the chilies straight across in 1/8 - 1/4 inch slices. Add them to the fish sauce and stir. Let sit for about an hour so the 2 flavors can mix a little.
---
Step 3
Serve at room temperature, but if you are using it often and want to keep some on hand, it will keep in your refrigerator for several days. I like to use a jar with a tight fitting lid.
---
Support Thai Cookbook TV
If you like our site, and think our recipes are helping you to enjoy delicious Thai foods at home, please buy us a coffee break using the link below. If you donate, you will receive an enhanced user experience on this website.

Click for details!