Authentic Thai Recipe for Spicy Green Mango Salad with Toasted Coconut
Spicy Green Mango Salad with Toasted Coconut
ยำมะม่วงมะพร้าว ( Yam Ma Muang Ma Prao )
Added on October 9, 2015
Currently rated:


Rated 4.5 Stars from 2004 reader reviews
Yield: 2 - 4 servings
Prep time: 15 Minutes
Ready in: 15 Minutes
This version of Thai green mango salad is made with unripened mango, dried shredded coconut that has been toasted to a flavorful golden brown, toasted peanuts, shallots, dried shrimp, and hot Thai chili. The dressing is made with rich coconut milk, coconut sugar, and shrimp paste, so it has all the distinct flavors of a mango salad from southern Thailand. Salads of this type are usually referred to as "Yum", so we call this salad Yum Ma Muang Ma Prao.
Ingredient List:

What's in our Spicy Green Mango Salad with Toasted Coconut.
Basic Directions:

How we make our Spicy Green Mango Salad with Toasted Coconut.
1) Toast some some dry unsweetened coconut in a flat frying pan or wok over medium heat until evenly golden browned. Also toast the raw shelled peanuts until brown spots appear in several places.

2) Peel the dark green outer skin from one or two green mangoes, and shred them into long julienne style pieces. Peel and slice the shallots.

3) Pound the hot chilies using a mortar and pestle until broken into several large pieces, then whisk them into the coconut milk with sugar and shrimp paste. Allow to stand for a few minutes.

4) Pound the dried shrimp in the mortar until loosened and soft. Also pound the peanuts until chunky. Mix the shredded mango, toasted coconut, shallots, dried shrimp, and peanuts together, then add the dressing and toss everything together well.

5) Serve with a few sliced shallots, one or two whole chilies. and some cilantro on top as a garnish.
Jump to the detailed step-by-step method.
Our YouTube Channel features videos produced by Worawut and the team at
Baan Worawut
, our local Chiang Mai fast food restaurant. The recipes include some the most popular dishes we serve, family favorites from home, as well as a few more complicated Thai recipes that require hours to prepare.
Watch the Complete Video Lesson:
Subscribe, Follow, or Share:
Access 100 Free Thai Cooking Lessons:
Like this recipe? Please share it!
Please rate this recipe by giving it from 1 to 5 Stars: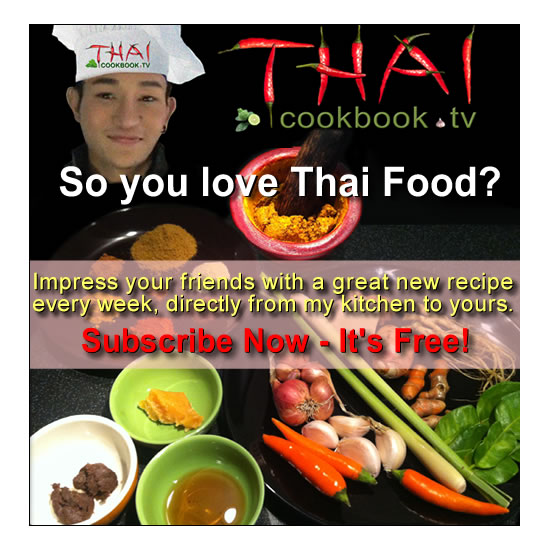 How to Make Yam Ma Muang Ma Prao
Detailed Step-by-step Method:
Print these instructions >
Step 1
You can use a few different types of mango to make salads of this type. Here I'm using some that have a light and crisp flavor, slightly sour, and similar to a green apple. There are other varieties that are very sour, and some people prefer to use those.
---
Step 2
Sometime before you start to make the salad, you'll need to toast the dried and shredded coconut. Be sure you get the type that is not sweetened. Just put it in a clean dry wok over medium heat, and keep stirring until it is evenly golden brown and aromatic.
---
Step 3
Stir the shrimp paste and sugar into the coconut milk and let it sit while you prepare the other ingredients. It takes a while for the sugar to melt and the shrimp paste to soften enough to blend easily.
---
Step 4
Peel the dark green skin from the mango and discard it.
---
Step 5
Use a vegetable shredder to make long, thin, or julienne style strips. Keep working at it until you get down to just a flat seed. The fruit gets rough and kind of woody near the seed, so stop before then if you have enough.
---
Step 6
You want about 2 cups of cut mango, so you might need to use the second mango to get enough.
---
Step 7
Peel and slice the shallots very thin. You need about 1/2 cup of slices. Save a few nice clean slices to use as a garnish.
---
Step 8
If not already done, toast the shelled, raw peanuts in a flat frying pan for a couple of minutes, or until you have nicely browned spots all around.
---
Step 9
Use a mortar and pestle to crush the red chili, just until they are broken up. The more chili you use, the spicier the salad will be, but the same is true when you grind or chop the chilies very fine.
---
Step 10
I like it spicy, and I like to see the big chunks of chili in the salad so I leave these in big pieces.
---
Step 11
By now the shrimp paste will be soft so you can easily blend it. Add the chilies to the coconut milk, shrimp paste, and sugar that you put together earlier, and whisk it until very smooth and creamy, with just chunks of chili. Let it stand again so it has time to get nice and spicy with the addition of the red chili.
---
Step 12
Put the dried shrimp in the mortar and grind then roughly until they are loose and flaky on the edges. Dried shrimp are very hard, so this grinding just breaks them a little so they can absorb some of the dressing.
---
Step 13
Grind the toasted peanuts until they are chunky.
---
Step 14
Now mix the toasted coconut into the shredded mango until they are well blended. For best results just use you hand so you can get the coconut mixed in everywhere.
---
Step 15
Add the shallots, peanuts, and dried shrimp, and toss everything together well.
---
Step 16
Pour the dressing on and mix until well blended.
---
Step 17
Serve on one plate to be shared at the table, Thailand-style, or use smaller plates for each serving. Arrange the ingredients and spread everything out evenly.
---
Step 18
Garnish with a few slices of fresh shallots, some cilantro tops, and a couple of whole red chilies.
---