Authentic Thai Recipe for Spicy Glass Noodle Salad
Spicy Glass Noodle Salad
ยำวุ้นเส้น ( Yum Woon Sen )
Added on April 3, 2015
Currently rated:


Rated 4.5 Stars from 2718 reader reviews
Yield: 2 - 4 servings
Prep time: 10 Minutes
Cooking time: 5 Minutes
Ready in: 15 Minutes
Yum Woon Sen is a type of Thai salad made with clear bean vermicelli, or Glass Noodles. The ingredients are quite easy to obtain, and it just takes a few minutes to put together as a beautiful lunch or as part of a meal. In addition to the noodles, this recipe includes juicy shrimp, ground pork, Chinese celery, mushrooms, onions, shallots, and hot chili, but you can vary the ingredients as much as you want. The important part is the seasoning, which comes from a simple, fresh, and clean tasting dressing made with lime juice, fish sauce, and sugar. Yum Woon Sen, like many Thai foods, is expected to have a balance of sweet, spicy, salty, and sour flavors. However, this salad is completely delicious even if you choose to leave the hot chili out.
Ingredient List:

What's in our Spicy Glass Noodle Salad.
Basic Directions:

How we make our Spicy Glass Noodle Salad.
1) Prepare the glass noodles according to package directions. Clean and de vein the shrimp. Cut the fresh ingredients.

2) Blanch the noodles, shrimp, and ground pork in boiling water.

3) Whisk the salad dressing ingredient together.

4) Toss everything together well and serve.
Jump to the detailed step-by-step method.
Our YouTube Channel features videos produced by Worawut and the team at
Baan Worawut
, our local Chiang Mai fast food restaurant. The recipes include some the most popular dishes we serve, family favorites from home, as well as a few more complicated Thai recipes that require hours to prepare.
Watch the Complete Video Lesson:
Subscribe, Follow, or Share:
Access 100 Free Thai Cooking Lessons:
Like this recipe? Please share it!
Please rate this recipe by giving it from 1 to 5 Stars: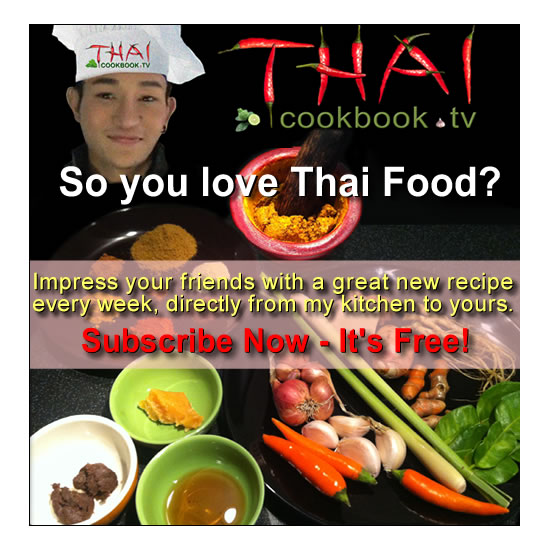 How to Make Yum Woon Sen
Detailed Step-by-step Method:
Print these instructions >
Step 1
Prepare the ingredients: If using dry bean vermicelli, then prepare them according to the package directions. If your noodles are the soft type like we use in Thailand, then they just need to be blanched as shown in the next step. Clean and devein your shrimp. Cut the fresh ingredients according to list.
---
Step 2
Boil about 3 cups of water, then add the noodles. Blanch until soft and clear, then drain them through a strainer and rinse well. Cover with cold water until you are ready to mix the salad.
---
Step 3
Blanch the shrimp in boiling water for about 1 minute, or until they curl up and turn pink. Do not overcook them. Remove from the hot water and place in a bowl of cold water to stop the cooking. Keep cold until ready to mix the salad.
---
Step 4
Boil the ground pork until it is well done, then drain the water off through a strainer. Note: If you prefer, you can also blanch the mushroom in the same water, but I use raw mushrooms in this salad.
---
Step 5
In a large mixing bowl, whisk the lime juice, fish sauce, and sugar together until the sugar completely dissolves. Taste the dressing and decide if it needs more of any of the 3 ingredients: Lime for more sour, fish sauce for more salt, sugar for more sweet. When the flavor has a nice balance to you, it's done.
---
Step 6
Toss in the rest of the ingredients, starting with the well drained noodles. Mix them into the dressing well, then toss in everything else and mix as much as possible.
---
Step 7
Serve on a large plate to be shared at the table. Serve fresh crispy vegetables on the side, including cucumber, cabbage, spring onion, etc.
Garnish with fresh Chinese celery tops.
---
Support Thai Cookbook TV
If you like our site, and think our recipes are helping you to enjoy delicious Thai foods at home, please buy us a coffee break using the link below. If you donate, you will receive an enhanced user experience on this website.

Click for details!