Authentic Thai Recipe for Thai Yellow Curry Paste
Thai Yellow Curry Paste
แกงกะหรี่ ( Kaeng Kari; Gang Garee )
Added on April 10, 2014
Currently rated:


Rated 4.5 Stars from 3643 reader reviews
Yield: About 1/2 Cup
Prep time: 30 Minutes
Ready in: 30 Minutes
Kaeng Kari is probably one of the first tastes that westerners will think of when they talk about the flavors of food in Thailand. Its sweet and creamy richness tends to tone down the overall spiciness of the curry, making it one of the more popular dishes found on restaurant menus outside Thailand. The creaminess of coconut combined with spices like cumin, coriander, turmeric, and cinnamon, and the fresh rhizomes and roots of galangal, coriander, and lemongrass, and the distinctly Thai scent of kaffir lime all work together to make it one of my personal favorites.

Thai yellow curries can be made with chicken, shrimp, pork, fish or vegetables and is usually eaten with steamed rice or round rice noodles known as khanom chin.

This recipe shows you how to make the curry paste that is a component used in making several Thai recipes found on our site. It's quite a lot of work, and if you are just getting started at cooking Thai food, you may want to use a packaged Thai Yellow Curry. There's nothing wrong with doing that, and in fact, most Thais never make their own curry or chili pastes. Using a packaged product will get you used to Thai flavors, so later you can experiment and tweak them to your own personal tastes. Personally, I like to make my own pastes because they make the food taste like my own cooking, and it's very rewarding when you get all these delicious ingredients pounded down into that little ball of paste.
Ingredient List:

What's in our Thai Yellow Curry Paste.
Basic Directions:

How we make our Thai Yellow Curry Paste.
1) Cut and measure all the ingredients.

2) Grind all the ingredients together, one by one, starting with the hardest and working down to the softest until a fine brownish yellow paste is obtained.
Jump to the detailed step-by-step method.
Our YouTube Channel features videos produced by Worawut and the team at
Baan Worawut
, our local Chiang Mai fast food restaurant. The recipes include some the most popular dishes we serve, family favorites from home, as well as a few more complicated Thai recipes that require hours to prepare.
Watch the Complete Video Lesson:
Subscribe, Follow, or Share:
Access 100 Free Thai Cooking Lessons:
Like this recipe? Please share it!
Please rate this recipe by giving it from 1 to 5 Stars: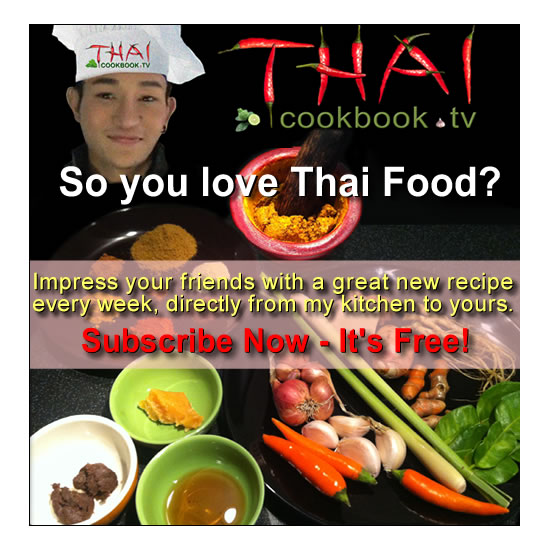 How to Make Kaeng Kari; Gang Garee
Detailed Step-by-step Method:
Print these instructions >
Step 1
Clean and cut up the fresh galangal, lemongrass, coriander root, turmeric, shallots, garlic, chilies. Strip the center stems from the kafir lime leaves, then chop them very fine. Measure and assemble the dry spices, shrimp paste, fish sauce, sugar, and oil.
---
Step 2
Using a mortar and pestle, start with the hardest ingredients first, grinding them in batches. I always do the galangal and lemongrass first. Grind them together, separating the fibers and much as possible until it is worked down into a rough pulp. It will look a little like wet saw dust.
---
Step 3
Move it to a bowl, and set aside.
---
Step 4
Next work on about half of the other fresh ingredients. Here I'm doing the coriander roots, chilies, turmeric, and shallots.
---
Step 5
When those are all well mixed int a fine paste, add the rest and continue pounding.
---
Step 6
After all the fresh ingredients are well mashed up, add the galangal and lemongrass back into the mortar, and mix it all really well. Look for large pieces that you may have missed, and keep grinding until the whole mix is a fine as you are ever going to get it.
---
Step 7
Add in all the dry, ground spices to the mix, and blend well.
---
Step 8
Mix in the fish sauce, shrimp paste, and oil. mash, blend, and stir it all until well until it has a consistent, smooth texture.
---
Step 9
Homemade curry and chili pastes will always be rougher in texture than the ones you buy at the market. You will see some fibers from the lemongrass. Don't worry about them, they'll get soft when the curry is cooked. I like the authentic texture that they add to my dishes. The curry should be a golden yellow color.
---