Authentic Thai Recipe for Thai Red Curry Paste
Thai Red Curry Paste
พริกแกงเผ็ด ( Phrik Kaeng Ped )
Added on November 7, 2013
Currently rated:


Rated 4.5 Stars from 2208 reader reviews
Yield: About 1 cup
Prep time: About 1 hour
Ready in: 1 Hour
Making your own Thai chili paste, or curry, is an important part of truly learning about Thai cuisine and why it taste the way it does. Thai Red Curry has an amazing blend of flavors and aromas from fresh lemongrass, galagal, kaffir lime, and dry roasted cumin, coriander, and peppercorns. Follow our easy recipe and you can learn to make Phrik Gaeng Ped.
Ingredient List:

What's in our Thai Red Curry Paste.
Basic Directions:

How we make our Thai Red Curry Paste.
1) Cut and measure all the ingredients.

2) Grind all the ingredients together, one by one, starting with the hardest and working down to the softest until a fine red paste is obtained.
Jump to the detailed step-by-step method.
Our YouTube Channel features videos produced by Worawut and the team at
Baan Worawut
, our local Chiang Mai fast food restaurant. The recipes include some the most popular dishes we serve, family favorites from home, as well as a few more complicated Thai recipes that require hours to prepare.
Watch the Complete Video Lesson:
Subscribe, Follow, or Share:
Access 100 Free Thai Cooking Lessons:
Like this recipe? Please share it!
Please rate this recipe by giving it from 1 to 5 Stars: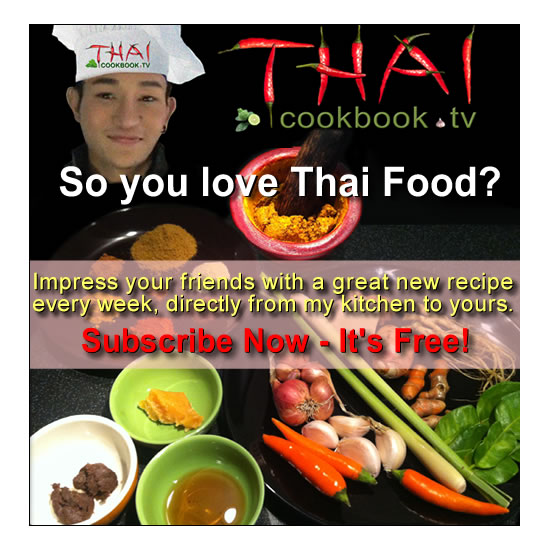 How to Make Phrik Kaeng Ped
Detailed Step-by-step Method:
Print these instructions >
Step 1
Toast the dry coriander seeds, cumin, and peppercorns in a flat frying pan until they are slightly browned.
---
Step 2
Cut the chilies into small pieces. Peel the shallots and slice very thinly. Peel the garlic cloves. Grate the zest of 1 or two Kaffir Limes. Slice the Lemongrass and Galagal into thin pieces.
---
Step 3
Using a mortar and pestle, grind the toasted seeds and peppercorns into a very fine powder.
---
Step 4
Add the cut chilies and salt, and grind until the chilies are very fine and most of the seeds are broken.
---
Step 5
Add the lemongrass, galangal, and cilantro roots to the ground chili and spices. Pound and grind it all until the plant fibers are all well separated and the mixture looks like fine, wet, sawdust.
---
Step 6
Add the shallots, and grind them in until you can no longer see any pieces of shallot in the paste.
---
Step 7
Do the same with the garlic. Keep working it in until you can't see white garlic pieces.
---
Step 8
Add the Kaffir lime zest. Grind it all up some more until the green spots of lime zest are gone.
---
Step 9
Finally, add in the shrimp paste and mash it all up really well.
---
Step 10
Your Red Curry Paste will keep in a refrigerator for about a week, and it can be frozen for months in a tightly sealed container.
---