Authentic Thai Recipe for Thai Green Curry Paste
Thai Green Curry Paste
พริกแกงขียว ( Prik Kaeng Kiew )
Added on August 12, 2014
Currently rated:


Rated 4.5 Stars from 2220 reader reviews
Yield: About 1 1/2 Cups
Prep time: 30 Minutes
Ready in: 30 Minutes
Making your own Thai chili pastes, or curry pastes, can be quite a challenge but it is really worth the effort. You will like being able to control all the ingredients and make the paste come out tasting just right. Many commercially available green curry pastes are way too salty to get all the rich flavors without over salting your dish, and nothing beats the texture and rich green color of a homemade strong green chili paste (พริกแกงขียว) for your next Kaeng Kiew Waan Gai.

Obtaining all of the correct ingredients to make homemade Thai curry pastes is nearly impossible in some areas. Fresh Kaffir lime is not widely available, but in most cities you'll find dried Kaffir lime leaves packaged the way you'll see Bay leaves. These have similar flavors and do make an okay substitute for the rind of the fruit. Some recipes skip the fruit altogether, knowing that most cooks will never be able to get it. We recommend that you try for everything, then just leave out the things you can't get. Thai curry has such an array of different aromas and flavors that you may not even taste that something is missing.
Ingredient List:

What's in our Thai Green Curry Paste.
Basic Directions:

How we make our Thai Green Curry Paste.
1) Cut and measure all the ingredients.

2) Grind all the ingredients together, one by one, starting with the hardest and working down to the softest until a fine green paste is obtained.
Jump to the detailed step-by-step method.
Our YouTube Channel features videos produced by Worawut and the team at
Baan Worawut
, our local Chiang Mai fast food restaurant. The recipes include some the most popular dishes we serve, family favorites from home, as well as a few more complicated Thai recipes that require hours to prepare.
Watch the Complete Video Lesson:
Subscribe, Follow, or Share:
Access 100 Free Thai Cooking Lessons:
Like this recipe? Please share it!
Please rate this recipe by giving it from 1 to 5 Stars: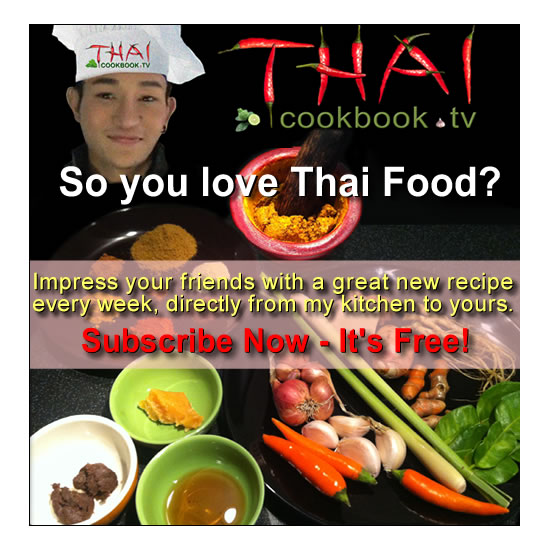 How to Make Prik Kaeng Kiew
Detailed Step-by-step Method:
Print these instructions >
Step 1
When you take the time to make your own homemade chili pastes you will noticed that your finished curry dishes will have a much brighter color and way more flavor. This is especially true for green curries, as most packaged products tend to be more brown than green. Green curry is made with a fresh chili paste where the ingredients are not cooked, roasted, toasted, or dried as you will find in our red and yellow chili pastes. (I toast the seeds for my green curry).

Note: Always use a mortar and pestle to make chili pastes. They come out much nicer, as you'll still have a lot of lovely little bits and pieces of color from all the different ingredients. If you just can't do it this way, you can use a food processor, though the finished product will not be the same.
---
Step 2
One of the most important, yet hardest to find ingredients for making green chili paste is the kaffir lime fruit. You can substitute about half as much of the leaves for the rind of the fruit, but the flavor is not exactly the same. Just as you have with regular lime zest, the rind of the Kaffir has a lot of oils in it that impart an array of flavors and aromas. Always try for the actual fruit if at all possible, and your green curry will be amazing.
---
Step 3
Most of the bright green color in this chili paste comes from green, unripened chili peppers. The Thai Hot Chili is one of our more spicy ones, even when green. They are way too spicy to get enough green color for the curry without making it so spicy you can't eat it, so I blend these with another one called the Thai Long Chili, which is a type of large mild chili. It is just a little bit spicy, but mostly from the seeds. You can remove the seeds, and just use a ratio of spicy and mild that works for you. Note that green chili paste is, and should be, rather spicy and salty at full-strength.
---
Step 4
Toasted the cumin and coriander seeds in a flat frying pan over low to medium heat for just a few minutes. You'll see them start to brown and pop a little. Keep shaking the pan so they turn and toast evenly. Be careful not to burn them.
---
Step 5
Grind the seeds together with the peppercorns until you get a nice fine powder. Move this to a bowl and clean the mortar.
---
Step 6
Grate enough of the Kaffir lime rind so you have about 1 tablespoon of zest. If using leaves, grind them up until they are a fine powder, as fine as you can get them.
---
Step 7
Chop the coriander roots into very small pieces. Chop the Galangal up as fine as you can. Slice the lemongrass root very thinly. Peel and slice the shallots very thinly. Peel and chop the garlic.
---
Step 8
Slice both types of chili into small pieces.
---
Step 9
Put the chilies and salt into the mortar and grind them until the pieces are very fine and you get a bright green mush.
---
Step 10
Add the galangal, coriander root, and lemongrass, and grind it into the chilies until there are no longer any recognizable pieces. The result should be a wet pulp with a lot of very fine fibers. If it's not, keep working at it.
---
Step 11
Add in the garlic and shallots and grind them into the mixture until you can see only green, without little bits of white.
---
Step 12
Finally, add the ground seeds and the shrimp paste. Mix it in until completely gone. That's it, it's all done!
---
Step 13
Store the paste in an airtight container in the refrigerator for up to a week, or in the freezer for several months. If you freeze it, thaw it out slowly in the refrigerator for best results. Do not microwave to thaw.
---