Authentic Thai Recipe for Tamarind Paste
Tamarind Paste
มะขามเปียก ( Makaam Piak )
Added on October 23, 2016
Currently rated:


Rated 4.5 Stars from 2379 reader reviews
Yield: 1/2 cup
Prep time: 10 minutes
Ready in: 10 Minutes
It almost seems silly to post a recipe for Tamarind Paste since it's just dried tamarind fruit and water, but many people have asked me about it, so here it is. In Thailand it's called Makaam Piak (มะขามเปียก), and it's one of our most important ingredients. We use it in many different types of foods to add a clean and even sour flavor that is not bitter. Some of your favorite Thai dishes would not be the same without that Tamarind flavor. We have no idea why, but foreigners often refer to Tamarind Paste as Tamarind Water or Tamarind Juice, and you'll even see it labeled that way on packaged paste products. Tamarind Paste is a soft, thick, and creamy paste made by reconstituting dried tamarind fruit. Once fully dried, tamarind can be kept in a tightly sealed container in your kitchen pantry for a long, long time. If you do a lot of Thai cooking, we highly recommend that you take some home the next time you see it, and keep it on hand so you can make a little fresh paste as you need it. It beats the flavor of those bottled pastes, is completely natural, and is without the preservatives.
Ingredient List:

What's in our Tamarind Paste.
Basic Directions:

How we make our Tamarind Paste.
1) Soak the dried, shelled tamarind fruit in warm water for about 5 minutes. Work it with your fingers to loosen the fiber and seeds, until you have a stringy mush. Remove as much of the seeds an fibers as you can.

2) Put the mush in a strainer with a tight mesh. Push it through. What comes out the other side is tamarind paste. Discard the seeds and fibers. Store the paste in a tight container in the refrigerator for up to two weeks, or in the freezer for six months.
Jump to the detailed step-by-step method.
Our YouTube Channel features videos produced by Worawut and the team at
Baan Worawut
, our local Chiang Mai fast food restaurant. The recipes include some the most popular dishes we serve, family favorites from home, as well as a few more complicated Thai recipes that require hours to prepare.
Watch the Complete Video Lesson:
Subscribe, Follow, or Share:
Access 100 Free Thai Cooking Lessons:
Like this recipe? Please share it!
Please rate this recipe by giving it from 1 to 5 Stars: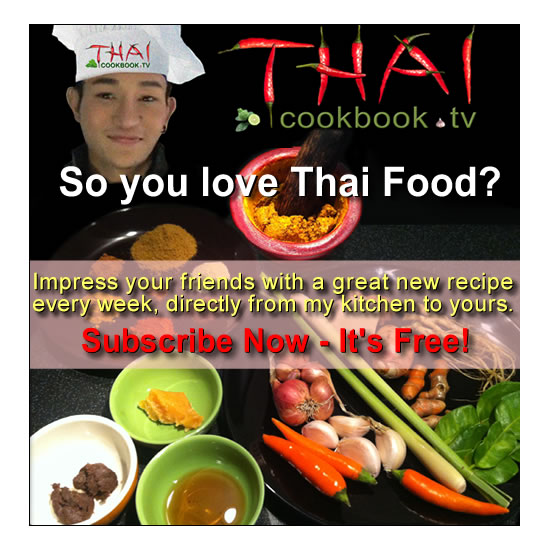 How to Make Makaam Piak
Detailed Step-by-step Method:
Print these instructions >
Step 1
Tamarind fruit has a hard leathery shell on the outside. If yours does, you'll need to remove it so you're down to just the fruit pulp with seeds. You'll often find it with everything removed so you just have the clean fruit with a texture like raisins or dates. However you find it, you'll need to use the following method to create your paste.
---
Step 2
Spread the fruit out as much as you can. Place it in a medium-sized bowl so you have a lot of room. Add just enough water to cover it up. Let it soak without touching for about 5 minutes.
---
Step 3
Pour out the water, then use your fingers to pinch and squeeze the wet fruit until it softens and starts turning into a mush. As they loosen up, remove any fibers or seeds that you find.
---
Step 4
Put the fruit in a fine strainer. Push it through the strainer with your fingers, a spoon, or a spatula.
---
Step 5
Scrape the paste that comes through onto a plate. If you still have some hard pieces in the strainer, you can soak it some more and try again, or just discard it if you have enough paste already.
---
Step 6
Discard the seeds, fibers, and shells.
---
Step 7
If you made extra or are preparing the paste for later use, store it in a tight container in your refrigerator. It will keep for a couple of weeks. It can be frozen but must be used right away once thawed.
---