Authentic Thai Recipe for Panang Curry Paste
Panang Curry Paste
แกงพะแนง ( Kaeng Panang )
Added on April 7, 2016
Currently rated:


Rated 4.5 Stars from 2635 reader reviews
Yield: 6 - 8 Tablespoons
Prep time: 30 Minutes
Ready in: 30 Minutes
Panang curry is among the most popular and recognizable dishes in Thailand. Because it is generally considered to be more mild than other curries and is made with coconut cream, it can be enjoyed by people who do not normally eat spicy foods. The base seasoning for Panang is our Kaeng Panang curry paste. As you become more familiar with Thai foods, you'll recognize Panang paste from its golden orange color and the flavors of mace, cardamom, and toasted seeds. Like all Thai curries, the paste starts with fresh herbs such as lemongrass, galangal root, kaffir lime, and corriander. It's when we add the particular spices that each takes on its distinct flavor and aroma.
Ingredient List:

What's in our Panang Curry Paste.
Basic Directions:

How we make our Panang Curry Paste.
1) Toast the cumin, coriander, mace, cardamom, and green chilies until lightly browned and aromatic.

2) Remove the seeds form the chilies, then grind them up with all the dried spices using a vegetable chopper or by hand with a mortar and pestle. Set this aside.

3) Chop and prepare all the fresh herbs, grind then together as fine as you can. Add the dry ingredients, salt, and shrimp paste one at a time and continue grinding until you have a smooth and creamy paste.
Jump to the detailed step-by-step method.
Our YouTube Channel features videos produced by Worawut and the team at
Baan Worawut
, our local Chiang Mai fast food restaurant. The recipes include some the most popular dishes we serve, family favorites from home, as well as a few more complicated Thai recipes that require hours to prepare.
Watch the Complete Video Lesson:
Subscribe, Follow, or Share:
Access 100 Free Thai Cooking Lessons:
Like this recipe? Please share it!
Please rate this recipe by giving it from 1 to 5 Stars: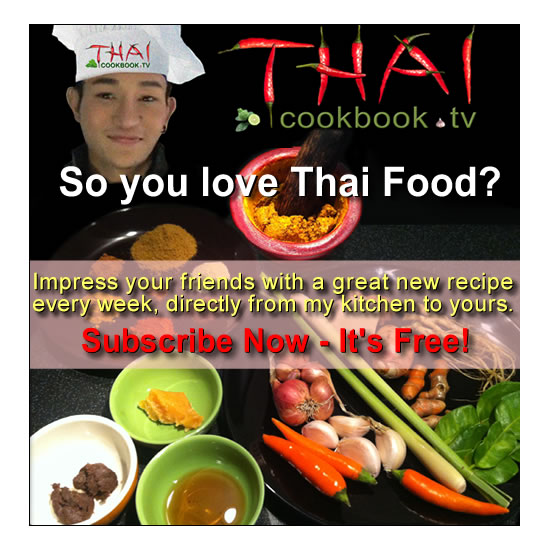 How to Make Kaeng Panang
Detailed Step-by-step Method:
Print these instructions >
Step 1
To make this recipe I use a small vegetable chopper to work the fresh and dry ingredients into a fine mush, but I still use a mortar and pestle to mix and mash the paste together. You can use a food processor, but the flavor is much better if done by hand. Organize and measure the ingredients.
---
Step 2
I'll start by toasting the coriander and cumin seed in flat pan over low heat until lightly browned. Toasting brings out a lot of flavor. Just keep stirring them around and keep the heat low for best results.
---
Step 3
Next lay the Mace in the pan and brown them on both sides.
---
Step 4
Now put the whole cardamom pods in the pan and do the same. Each of these pods has about 10 little seeds. Heating them releases the oils and they become even more fragrant. You can use about 1/4 - 1/2 teaspoon of ground cardamom, but if you can get the whole seeds it will be much better as they lose their flavor soon after being ground.
---
Step 5
Now brown the green chilies on both sides.
---
Step 6
Cut open the red and green chilies and remove all the seeds.
---
Step 7
Put the chilies, mace, cardamom, cumin, coriander seed, and black peppercorns in a chopper and grind as fine as possible.
---
Step 8
Grinding this all by hand with a mortar and pestle will take about an hour, so I grind it up first before mixing. Set the dry ingredients aside for now.
---
Step 9
Next grate about 2 teaspoons of the galangal.
---
Step 10
Chop or press about 2 tablespoons of garlic.
---
Step 11
Grate about 2 teaspoons of kafir lime peel.
---
Step 12
Finely slice about 2 Tablespoons of lemongrass.
---
Step 13
Chop about 2 teaspoons of coriander root.
---
Step 14
Peel ad chop about 3 tablespoons of shallots.
---
Step 15
Put all the fresh herbs in your chopper and grind it up as fine as you can.
---
Step 16
It can take a long time to get it this fine with just a mortar and pestle.
---
Step 17
Now you have it all down to just 4 parts: the fresh herbs, the dry spices, the salt, and the shrimp paste.
---
Step 18
Mash the herbs in the mortar until very smooth, looking for large chunks and getting them as you work from side to side.
---
Step 19
Add the ground spices and the salt, and continue mixing until it is as fine as possible. Work from one side to the other, pounding and searching for large pieces.
---
Step 20
Add the shrimp paste and continue mashing until thoroughly mixed in and you no longer see large pieces of any ingredient. A homemade curry paste will always be chunkier than store-bought types, so don't worry if yours isn't completely smooth. The chunky texture makes a very nice finished dish and you'll always know that it has been made from raw ingredients.
---
Step 21
Depending on what dish you are making, you'll need about 1 - 2 tablespoon of paste. This recipe makes about 1/2 cup, so I like to put it in small bags of about 2 tablespoons each, then freeze them for later. Fresh curry will only last about a week in your refrigerator, but freezing it is fine. As long as you only thaw it out one time when you are ready to use it, you can't tell the difference, and it will be perfectly delicious.
---