Authentic Thai Recipe for Crispy Fried Shallots
Crispy Fried Shallots
หอมแดงทอด ( Hom Daeng Tod )
Added on October 28, 2016
Currently rated:


Rated 4 Stars from 2259 reader reviews
Yield: 1/2 Cup
Prep time: 5 Minutes
Cooking time: 5 Minutes
Ready in: 10 Minutes
Crispy fried shallots are an important ingredient in making Hat Yai Fried Chicken, but we often use them as a garnish on other dishes as well. Getting them perfectly crispy and golden brown without burning is a big challenge. The oil has to be at exactly the right temperature so they don't burn up before they finish cooking. Since we'll be needing some in an upcoming recipe for a Northern Thai Pork Curry, this is a good time to show you my method. I keep them frozen so there's no problem making these up in advance. Whether you use them for one of the recipes here, or some other type of food altogether, knowing how to fry shallots will always come in handy.
Ingredient List:

What's in our Crispy Fried Shallots.
Basic Directions:

How we make our Crispy Fried Shallots.
1) Peel and cut the shallots into thin even slices.

2) Heat the oil to exactly 120°C / 250°F.

3) Fry the shallots slowly for about 5 minutes, or until golden brown.

4) Drain on a paper towel until free of oil and dry.
Jump to the detailed step-by-step method.
Our YouTube Channel features videos produced by Worawut and the team at
Baan Worawut
, our local Chiang Mai fast food restaurant. The recipes include some the most popular dishes we serve, family favorites from home, as well as a few more complicated Thai recipes that require hours to prepare.
Watch the Complete Video Lesson:
Subscribe, Follow, or Share:
Access 100 Free Thai Cooking Lessons:
Like this recipe? Please share it!
Please rate this recipe by giving it from 1 to 5 Stars: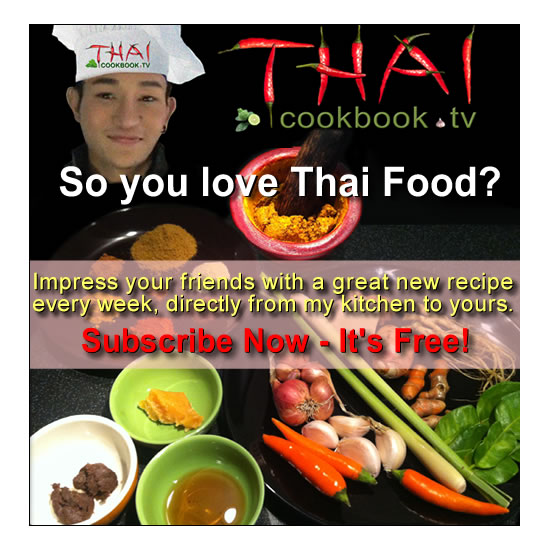 How to Make Hom Daeng Tod
Detailed Step-by-step Method:
Print these instructions >
Step 1
I'm using the small red Asian shallots that we often use in Thailand, but this technique will work for doing any type of shallot or onion.
---
Step 2
Peel and then carefully slice the shallots across the grain into even, thin slices. It's important to make all the slices the same thickness so they will all cook at the same rate.
---
Step 3
Separate the slices into rings.
---
Step 4
Use a deep pot and plenty of oil so the shallots will fry without crowding. Heat the oil to exactly 120°C / 250°F, and test it a couple of times to be sure that it is not continuing to get hotter. If you have a deep fryer then this will be easier. Doing it by guessing the temperature is difficult, and the shallots will be mushy if the oil is not hot enough, and they will burn quickly if too hot.
---
Step 5
Add the shallots to the oil and stir them often with a slotted spoon so they float freely and fry evenly.
---
Step 6
Leave the shallots to fry until they stop sizzling completely and start to turn brown. This could take as long a 5 minutes. Remove them to a paper towel to drain the oil well.
---
Step 7
Allow the shallots to cool completely, and use a clean paper towel under them until they are dry and oil free. If using right away, keeping them in a dish is fine, but they will get soggy if left out in a humid climate like we have here. To prevent this from happening, I put them in a small zip-lock bag and put them in the freezer. Take them out only as needed and they will stay perfectly crisp.
---