Authentic Thai Recipe for Basic Red Curry Paste
Basic Red Curry Paste
Phrik Kaeng Khua
Added on April 20, 2015
Currently rated:


Rated 4.5 Stars from 2619 reader reviews
Yield: 1 Cup
Prep time: 1 Hour
Ready in: 1 Hour
There are several different Thai curry pastes which are "red" in color. Generally speaking, they all start with the same basic herb ingredients. Those ingredients are dried mild red chili, fresh galangal, lemongrass, coriander root, garlic, shallot, and kaffir lime zest. To make Prik Kaeng Ped, our hot red chili paste, we add hot chili, plus toasted spices like cumin, coriander seed, and peppercorn. The same can be said for other curry pastes, such as Massaman and Panang. They start with the basic ingredients, then add a few other things to get the distinct flavor that is expected. It is for this reason that this Basic Red Curry is also sometimes referred to as a curry base. Many our our most popular dishes, Choo Chee as an example, are seasoned with the same basic herb ingredients but do not need the dry spices. The cook can pound them all together while getting the other ingredients ready to make the dish, or she can take the shortcut and use a Basic Red Curry paste. This recipe shows you how to do that.
Ingredient List:

What's in our Basic Red Curry Paste.
Basic Directions:

How we make our Basic Red Curry Paste.
1) Cut and measure all the ingredients.

2) Grind all the ingredients together, one by one, starting with the hardest and working down to the softest until a fine red paste is obtained.
Jump to the detailed step-by-step method.
Our YouTube Channel features videos produced by Worawut and the team at
Baan Worawut
, our local Chiang Mai fast food restaurant. The recipes include some the most popular dishes we serve, family favorites from home, as well as a few more complicated Thai recipes that require hours to prepare.
Watch the Complete Video Lesson:
Subscribe, Follow, or Share:
Access 100 Free Thai Cooking Lessons:
Like this recipe? Please share it!
Please rate this recipe by giving it from 1 to 5 Stars: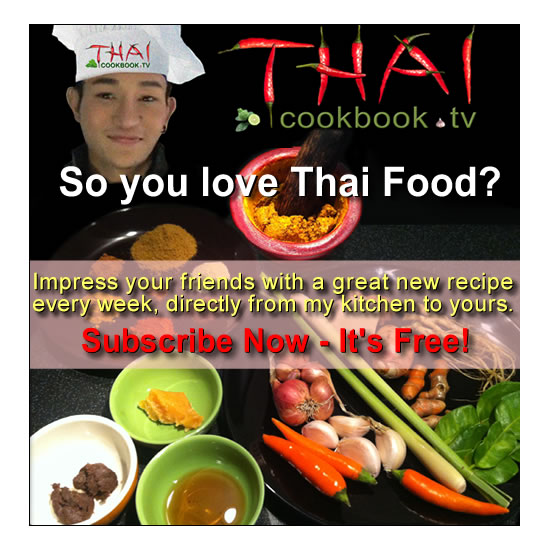 Detailed Step-by-step Method:
Print these instructions >
Step 1
Prepare the dried long chilies by cutting them with scissors down the side, then removing the seeds. Then cut the chilies into small pieces.
---
Step 2
Using a very fine grater, grate the rind of one or two kaffir limes. You need about one tablespoon of zest.
---
Step 3
Clean and peel the galangal, garlic, and shallots. Then cut them into very small pieces. Slice the bottom part of the lemongrass stalks into very thin pieces. Clean the coriander roots well, then cut them up very small. Arrange everything so you have it ready to begin grinding.
---
Step 4
Using a mortar and pestle, grind the dried chilies together with the salt. This is the most difficult part, but your persistence will pay off and soon you will be rewarded with a very fine powder. You can use a grinder or food processor if you want to cheat on this step, but for the best results put the powder back in the pestle and do all the herbs by hand. You'll be glad you did. You just won't be able to get the texture right if you use a machine and if you do it that way you might as well buy it in a bag.
---
Step 5
Start with the hard ingredients first, and work through them one by one until you are adding the soft ones at the end. You are still strong and at the end you'll be glad you aren't doing the galangal. Here is the order I do it in:

Add the lemongrass and grind it into the chilies until you have a dark red pulp that looks like wet sawdust. Then add the galangal and grind it until you can't see any white pieces in the mixture. Now add the coriander root and do it again. Then the garlic, shallots, and kaffir lime zest. Just be sure to thoroughly grind each new addition to the mix until it all looks red and very fine.
---
Step 6
When all of the herbs are in there and it all looks smooth and consistent in color, add the shrimp paste and mix it in well.
---
Step 7
You can take as many breaks as you need. When it's finally done you'll be glad you did it this way. All the beautiful little bits of color will make for a lovely finished curry dish.
---
Support Thai Cookbook TV
If you like our site, and think our recipes are helping you to enjoy delicious Thai foods at home, please buy us a coffee break using the link below. If you donate, you will receive an enhanced user experience on this website.

Click for details!