Authentic Thai Recipe for Braised Pork Leg
Braised Pork Leg
ข้าวขาหมู ( Khao Kha Moo )
Added on February 23, 2015
Currently rated:


Rated 4.5 Stars from 3508 reader reviews
Yield: 8 - 10 servings
Prep time: 10 Minutes
Cooking time: 3 Hours
Ready in: 3 1/2 Hours
This version of Kha Moo (ขาหมู) is a delicious and flavorful pork leg roast that is braised and then simmered for 3 - 4 hours in a broth made with star anise, cinnamon, cumin, sugar, soy sauces, and Shitaki mushrooms. The result is a rich and juicy pork roast unlike many others. Traditionally, it is served as a one-dish meal over steamed rice (Khao Kha Moo), with a spicy garlic dipping sauce, fresh bird's eye chillies and cloves of garlic. You will usually get it with boiled egg and either blanched Chinese broccoli or pickled mustard greens. While normally eaten in this plate lunch style, this pork is good enough to be served as the main course at a family style dinner.
Ingredient List:

What's in our Braised Pork Leg.
Basic Directions:

How we make our Braised Pork Leg.
1) Coat the pork leg in oil, then brown it in a frying pan on all sides.

2) Prepare the herb paste by grinding the garlic, coriander root, peppercorns, and salt together.

3) Fry the paste and coconut sugar in oil for about 1 minute until fully melted together, then add the pork, coating it in the herbs. Fry on all sides until well browned and caramelized.

4) Add water, light and dark soy sauces, star anise and cinnamon. Cover and simmer slowly for 2 - 3 hours. Add mushrooms and boiled eggs to pot during last hour.
Jump to the detailed step-by-step method.
Our YouTube Channel features videos produced by Worawut and the team at
Baan Worawut
, our local Chiang Mai fast food restaurant. The recipes include some the most popular dishes we serve, family favorites from home, as well as a few more complicated Thai recipes that require hours to prepare.
Watch the Complete Video Lesson:
Subscribe, Follow, or Share:
Access 100 Free Thai Cooking Lessons:
Like this recipe? Please share it!
Please rate this recipe by giving it from 1 to 5 Stars: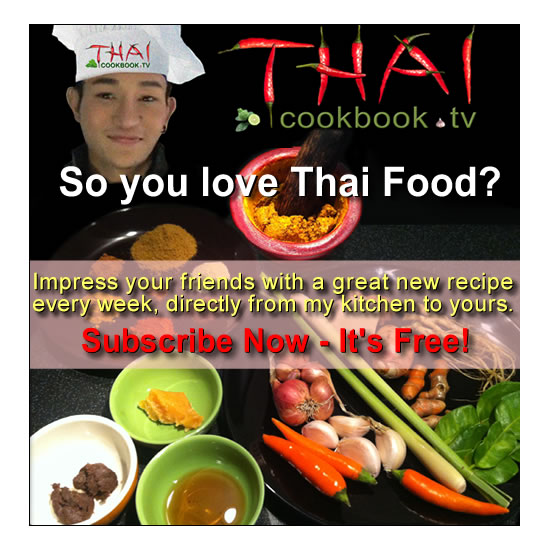 How to Make Khao Kha Moo
Detailed Step-by-step Method:
Print these instructions >
Step 1
Rub a generous coat of vegetable oil over the entire pork leg roast.
---
Step 2
Brown the roast in a large wok or frying pan using 1/4 cup of vegetable oil. Turn it over and around to fully brown it everywhere, as much as possible.
---
Step 3
Measure and arrange the ingredients used in cooking the meat. They are 1/2 cup coconut sugar, 2 Tablespoons Light Soy Sauce, 1 Tablespoon Dark Sweet Soy Sauce, 2 teaspoons Five Spice Powder, 2 Star anise seeds, 1 cinnamon stick, 3 Large Cloves Garlic, 4 Coriander Roots, 1/2 teaspoon black peppercorns, and 1/4 teaspoon salt.
---
Step 4
Using a mortar and pestle, grind the garlic, coriander root, peppercorns, and salt together until you get a fine paste.
---
Step 5
Add 2 Tablespoons vegetable oil to the bottom of your soup pot over low heat. Add the herb paste you made in the previous step and fry it gently in the oil for about 1 minute.
---
Step 6
Add the coconut sugar and about 2 Tablespoons of water. Stir it all up and melt the sugar until it dissolves completely. Keep the heat low so it doesn't burn.
---
Step 7
Add the Chinese 5 spice powder and stir it into the sugar and herb mixture until it is smooth.
---
Step 8
Add the pork leg to the pot and fry in the sugar, herbs and spices on all sides until well caramelized.
---
Step 9
Add enough water to the pot so the roast is covered about half way. Stir in the light and dark soy sauces. Drop in the star anise and cinnamon. Cover and turn up the heat until you get a hard boil, then reduce the heat until it is barely bubbling. Simmer for 2 hours, checking often and adding more water as needed.
---
Step 10
While the meat is cooking, you have time to get some of the optional sides ready. Some people like to nibble on the extremely spicy small Thai chili or fresh garlic. Wash the chilies and remove the stems, and clean up the outer shells from the garlic. If you are serving the meal soon, then go ahead and peel everything off the garlic too. Put them each in a small bowl for the table.
---
Step 11
Next, make the strong garlic sauce if you plan to serve it. The sauce is an excellent counter flavor to the sweet broth, so most people like it. You'll use 3 Tablespoons of finely chopped garlic, 2 finely chopped coriander roots, 2 finely chopped Thai Hot Chilies, and 2 Tablespoons distilled white vinegar. Use a mortar and pestle to pound the garlic, coriander root, and chilies into a rough paste.
---
Step 12
Just stir the vinegar and fresh ingredients together in a small bowl and let it marinate until time for dinner. Serve at the table as an optional condiment. Store the unused portion in the refrigerator, in a container with a lid. It will keep for a long time.
---
Step 13
If you plan to serve the sour pickled Chinese mustard, then open the package and drain the liquid. Rinse the stalks of mustard under running water, drip dry, then slice into 1/2 inch pieces. Put them in a small bowl to serve at the table as an optional condiment.
---
Step 14
After cooking the meat for about 2 hours, it's time to get the last ingredients ready. Peel the shells off the hard-boiled eggs. Wash and cut the mushrooms in half.
---
Step 15
Add the boiled eggs to the pot with the meat.
---
Step 16
Add the mushrooms and stir everything up well. Check the water level, cover and cook for one more hour.
---
Step 17
While you're waiting, cut the Chinese broccoli into 3 - 4 inch pieces.
---
Step 18
After the meat is cooked, for a total of at least 3 hours, remove it from the pot and let it cool on a platter. If serving a dinner, then you'll carve the meat for each plate at the table. Continue simmering the broth with the eggs and mushrooms until you are ready to serve dinner.
---
Step 19
Shortly before serving, add the Chinese broccoli to the broth and blanch it for about 15 seconds. It should be just barely cooked, but still crunchy. Remove it, drain the liquid, and place it on a cutting board. Also remove the eggs and let them cool, then cut them lengthwise in half and put them on a plate to serve at the table. Ladle some broth and mushrooms into a bowl for serving.
---
Step 20
Cut the Chinese broccoli into 1/2 inch pieces and put it in a bowl for serving.
---
Step 21
Khao Kha Moo is most often served as a one-dish meal, and what you usually get is a scoop of hot rice and just a very small amount of meat, fat and skin, with a small portion of mustard or Chinese broccoli.
---
Step 22
I like to make this into a meal that is suitable for a sit-down style dinner, so I serve everything all at once. Carve the meat at the table, have all the sides available, and of course plenty of hot rice and gravy.
---
Support Thai Cookbook TV
If you like our site, and think our recipes are helping you to enjoy delicious Thai foods at home, please buy us a coffee break using the link below. If you donate, you will receive an enhanced user experience on this website.

Click for details!