Authentic Thai Recipe for Drunkard's Noodles
Drunkard's Noodles
ผัดขี้เมาเส้นใหญ่ ( Pad Kee Mao Sen Yai )
Added on April 30, 2014
Currently rated:


Rated 4.5 Stars from 2332 reader reviews
Yield: 1 - 2 serving
Prep time: 10 Minutes
Cooking time: 3 - 4 Minutes
Ready in: 15 Minutes
Thai Drunkard's Noodles is delicious stir-fried one-dish meal consisting of fresh, wide, rice noodles, known as sen yai, along with fresh basil, baby corn, carrot, onion, hot chilies, and garlic. This version is made with sliced chicken breast meat, but you can use pork loin if you prefer. The finished dish is a plate of soft and sticky, chewy and delicious, and usually quite spicy, fried noodles that taste amazing.

The Thai words Kee Mao (ขี้เมา) mean drunkard. Several popular theories exist for the naming of the dish. One of the most common comes from the idea that you would come home late after a night of drinking and cook something with whatever was left in the frig, another says that these noodles are so spicy that you need to drink a lot of beer to get them down, so you get very drunk at dinner.

Despite the funny name, these Thai noodles make a delicious meal. They are quick and easy to prepare.
Ingredient List:

What's in our Drunkard's Noodles.
About 2 Cups Wide Rice Noodles
(Fresh Sen Yai, or prepared dry noodles)

1/2 Cup Chicken Meat


(sliced chicken breast or pork loin)

1 - 2 Baby corns


(cut lengthwise into slices)

2 -3 small pieces Carrot


(cut lengthwise into slices)
2 - 3 thin slivers Thai Long Chili
(mild chili (red, yellow, or orange))
1 bunch Fresh Green Peppercorns
(leave the corns together in the bunch)
10 thin slivers Finger root
(about 1 average finger, cut into very thin slivers, lengthwise)
3 - 4 Thai Hot Chili
(whole red and green chilies. Use less if you don't like it spicy.)

1/2 slice Brown or Yellow Onion


(just enough to get about 4 - 5 small pieces of onion)
3 - 4 small cloves Garlic
(not peeled)
1 Cup Thai Sweet Basil
(Star of siam basil, the one with the purple flower tops)

1 Tablespoon White cane sugar

2 teaspoons Light Soy Sauce
2 teaspoons Oyster Sauce
1/2 teaspoon Dark Sweet Soy Sauce
Basic Directions:

How we make our Drunkard's Noodles.
1) Fry chili, garlic, and onions in oil for one minute.

2) Add baby corn, sweet chili, carrot, and green peppercorn bunch. Stir it all well and cook for another 10 or 15 seconds.

3) Add the chicken and cook until nearly done, then add soy sauce, oyster sauce, and sugar. Cook until the sugar dissolves.

4) Add the precooked rice noddles. Stir until completely coated in the sauces.

5) Remove from the heat. Add fresh basil and toss in well. Serve immediately.
Jump to the detailed step-by-step method.
Our YouTube Channel features videos produced by Worawut and the team at
Baan Worawut
, our local Chiang Mai fast food restaurant. The recipes include some the most popular dishes we serve, family favorites from home, as well as a few more complicated Thai recipes that require hours to prepare.
Watch the Complete Video Lesson:
Subscribe, Follow, or Share:
Access 100 Free Thai Cooking Lessons:
Like this recipe? Please share it!
Please rate this recipe by giving it from 1 to 5 Stars: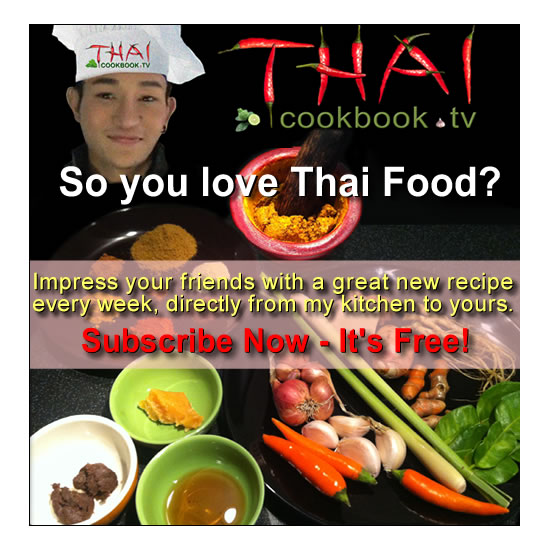 How to Make Pad Kee Mao Sen Yai
Detailed Step-by-step Method:
Print these instructions >
Step 1
Organize and assemble the ingredients. Slice chicken breast (or pork tenderloin, if preferred) into thin slices. Clean, wash, and cut the vegetables and basil. If using dry rice noodles, prepare them according to package directions.
---
Step 2
Using a mortar and pestle, pound and break up the chilies and garlic cloves. I don't remove the skins from these small cloves of garlic, but if your cloves are large ones, use 2 cloves and peel them and remove the hard part that connects to the head. If you don't like your food really spicy, use less chili or a mild chili. These Thai hot chilies are very spicy.
---
Step 3
Heat 2 Tablespoons of vegetable oil in a wok or deep frying pan until it gets really hot. Add the garlic, chili, and onion, and stir and cook for about 10 seconds or so until the garlic start to smell delicious. Be careful not to burn it, so check the heat and reduce the flame as needed.
---
Step 4
Add the onion and let it cook with the chili and garlic for about 30 seconds, then add the baby corn, sweet chili, carrot, and green peppercorn bunch. Stir it all well, letting it cook for another 10 or 15 seconds, then add chicken meat.
---
Step 5
Let everything cook until the chicken is about half done, then add the light soy sauce, oyster sauce, and sugar. Stir constantly as it cooks in and sugar melts.
---
Step 6
Stir and stir until the chicken is fully cooked, about a minute.
---
Step 7
Ad the rice noodles, pushing them into the pan and stretching them out until they are well coated with the sauces, then add the dark sweet soy sauce.
---
Step 8
Stir and turn the noodles over and over until the dark soy sauce is well mixed in, and the noodles are evenly coated with the brown sauce.
---
Step 9
Finally, add the basil into the pan, tossing it into the noodles until it is wilted. Don't overcook the basil. It just takes about 10 or 15 seconds.
---
Step 10
Remove from the heat, and serve on a plate. Arrange the vegetables, chilies, and peppercorns on top so they look nice and show all the colors. This is one average serving, but it can be shared if you are serving other dishes. It is difficult to to cook more than one serving at a time. For multiple servings you should prep all the ingredients and then cook them in single servings as quickly as possible. These noodles with get more sticky the longer they sit, so they should be served immediately.
---