Authentic Thai Recipe for Thai Fried Rice with Pork and Basil
Thai Fried Rice with Pork and Basil
ข้าวผัดกะเพราหมู่ (ผัดข้าวหมู่ ( Khao Pad Kaphrao Moo )
Added on July 30, 2014
Currently rated:


Rated 4.5 Stars from 2758 reader reviews
Yield: 2 servings
Prep time: 10 minutes
Cooking time: 5 minutes
Ready in: 15 - 20 minutes
Even if you are normally not a fan of fried rice, you should give Worawut's recipe for Thai-style fried rice a try. The main difference between Thai fried rice and Chinese (American) fried rice is that we usually use a little Thai hot chili to spice it up. There are many ways to make it. This version (Khao Pad Kaphrao Moo, ข้าวผัดกะเพราหมู่) is made with thinly sliced pork tenderloin and a healthy portion of Bai Krapow, a fragrant type of basil that we have in Thailand. If you can't get Krapow, then try for Holy basil, but really any type of basil will produce an excellent fried rice. You can substitute sliced chicken breast or leg meat if you prefer it to pork.

This recipe shows you how easy it is to make Thai styled stir fried dishes at home in your western style kitchen. You don't need to have a high speed, extremely hot stove, or any of the special cooking tools that you may have seen being used in Thai or Chinese restaurants. 36 inch woks and 25 thousand BTU burners are mostly for cooking a lot of food in a short amount of time. If you just work through this recipe and take your time, you will be serving an excellent Thai fried rice in under 30 minutes.
Ingredient List:

What's in our Thai Fried Rice with Pork and Basil.
Basic Directions:

How we make our Thai Fried Rice with Pork and Basil.
1) Add crushed garlic and chili to a warm wok with oil and fry for a few seconds. Then add the chicken or pork. Fry over low heat until the meat is done.

2) Add the oyster sauce, fish sauce, and sugar. Stir it into the meat and fry together until the sugar melts and the sauces form a nice thick and sticky gravy.

3) Turn the heat up high, add cold precooked rice and stir into the sauces. Keep frying and turning the rice over from the bottom of the pan until it starts to dry out and get browned.

4) Add the mild chili and stir in well. Turn off the heat and add the basil. Stir everything well and serve.
Jump to the detailed step-by-step method.
Our YouTube Channel features videos produced by Worawut and the team at
Baan Worawut
, our local Chiang Mai fast food restaurant. The recipes include some the most popular dishes we serve, family favorites from home, as well as a few more complicated Thai recipes that require hours to prepare.
Watch the Complete Video Lesson:
Subscribe, Follow, or Share:
Access 100 Free Thai Cooking Lessons:
Like this recipe? Please share it!
Please rate this recipe by giving it from 1 to 5 Stars: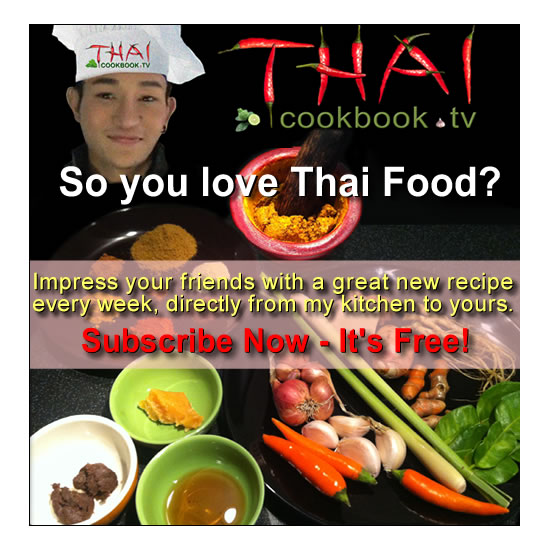 How to Make Khao Pad Kaphrao Moo
Detailed Step-by-step Method:
Print these instructions >
Step 1
This recipe can be made with either pork or chicken. You need to have 2 cups of cooked Thai Jasmine rice, or other long grain fragrant white rice. The rice should be cold, so if you don't have some on hand you'll need to cook it ahead of time and let it sit until it is cold and a bit sticky. You can speed this up by putting it in the refrigerator for a couple of hours.

Let's face it, fried rice just looks like fried rice, but if you take the time to serve some cucumber and spring onion on the side, and garnish with fresh basil leaves and cilantro, you can turn an ordinary plate into something special.
---
Step 2
I am using Thai hot chilies, which are quite spicy alone, but with this much rice and other ingredients the finished dish will be just a little bit spicy. You can use less chili, or none, if you prefer. You can substitute Thai chili for another locally available red chili if you need to.

I add some Thai Long Chili for color, but you can used any mild red pepper, such as bell pepper if that's what you can get.

You can substitute the thinly sliced pork tenderloin with the same amount of chicken if you prefer to use chicken.
---
Step 3
If you are lucky enough to be in Thailand you'll have no trouble finding Bai Krapow, our fragrant basil that is also used in making Krapow Moo, but if you can't get it just use any type of basil. Krapow has a distinct scent and flavor like cloves, and most people say that Holy Basil is a good substitute when you can find it. Pluck the leaves and flower tops from the stems, until you have at least 1 1/2 - 2 cups of leaves.
---
Step 4
Using a mortar and pestle, grind the chilies and garlic together until they are well blended. If you don't have one, chop them or use a food processor.
---
Step 5
Measure and organize your ingredients so they are ready to start cooking.
---
Step 6
Heat a wok or large frying pan over low - medium heat. You do not want the pan to be too hot at first, as the garlic will burn and mess up the flavor of your rice. Add the oil, let it heat up, then add the garlic and chili mixture. Stir it around and fry for a few seconds.
---
Step 7
Add the sliced pork or chicken, stirring it into the chili well.
---
Step 8
Keep stirring, letting the meat fry until it is nearly cooked all the way, but still a little pink in some places.
---
Step 9
Add the oyster sauce, fish sauce, and sugar. Stir it into the meat and fry together until the sugar melts and the sauces form a nice thick and sticky gravy.
---
Step 10
Turn the heat up under the pan as high as it will go. You want the pan to be as hot as possible. Then add the cold rice, and stir it into the sauce until all or most of the liquid is absorbed.
---
Step 11
Keep frying and turning the rice over from the bottom of the pan until it starts to dry out and get a little browned in some places. This may take 5 minutes or more, depending on how hot your pan can get. Just keep working it and be patient, but also be sure it is not burning.
---
Step 12
Add the sliced mild chili, and stir it in well.
---
Step 13
Turn off the heat and let the pan cool for about a minute, then stir in the basil just enough so that it is well distributed in the rice.
---
Step 14
This recipe is for 2 servings. Serve each one on a small plate, add some cilantro and fresh basil leaves as a garnish.
---
Step 15
Serve with half a cucumber, one or two spring onions, and some lime wedges. Lime juice is squeezed over the rice just before eating, as desired. Enjoy, and thank you for watching, Worawut.
---