Authentic Thai Recipe for Steamed Calamari with Garlic and Lime Salsa
Steamed Calamari with Garlic and Lime Salsa
ปลาหมึกนึ่งมะนาว ( Pla Muek Neung Manao )
Added on August 15, 2015
Currently rated:


Rated 4.5 Stars from 3066 reader reviews
Yield: 4 - 8 servings
Prep time: 20 Minutes
Cooking time: 10 Minutes
Ready in: 30 Minutes
In Thailand we eat a lot of Calamari. We call it Plah Meuk, and you'll see it everywhere: barbecued, in soups, stir-fries, and salads. Here we steam these lovely whole calamari and serve them with a delicious dipping sauce made with lots of fresh garlic, chilies, cilantro, lime juice, and coconut sugar. This type of fresh sauce is quite common in Thailand, and we usually serve it with fish. Most people here refer to it as simply "seafood dipping sauce", and there are many different ways to make it. What makes this recipe for Nam Jim Seafood different than others you might have seen, is that the ingredients are not cooked. It has a strong bite of fresh garlic, but that is balanced out nicely in a delicious Thai combination of spicy red chilies, sour lime juice, sweet coconut sugar, and salty fish sauce flavors. This recipe is a "must have" in the Thai Food section of your recipe file.
Ingredient List:

What's in our Steamed Calamari with Garlic and Lime Salsa.
For the Steamed Calamari
For the Garlic and Lime Salsa
Basic Directions:

How we make our Steamed Calamari with Garlic and Lime Salsa.
1) Marinate the squid for 15 minutes in fresh squeezed lime juice.

2) Combine lime juice, fish sauce, coconut sugar syrup, chopped garlic, chili, and cilantro leaves to make the dipping sauce.

3) Steam the calamari for 5 - 7 minutes, depending on size. Allow them to cool, the served sliced into rings, with the seafood dipping sauce on the side.
Jump to the detailed step-by-step method.
Our YouTube Channel features videos produced by Worawut and the team at
Baan Worawut
, our local Chiang Mai fast food restaurant. The recipes include some the most popular dishes we serve, family favorites from home, as well as a few more complicated Thai recipes that require hours to prepare.
Watch the Complete Video Lesson:
Subscribe, Follow, or Share:
Access 100 Free Thai Cooking Lessons:
Like this recipe? Please share it!
Please rate this recipe by giving it from 1 to 5 Stars: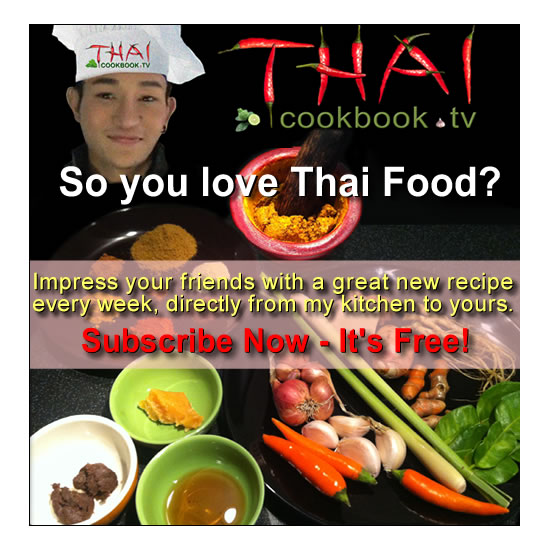 How to Make Pla Muek Neung Manao
Detailed Step-by-step Method:
Print these instructions >
Step 1
If not already done, clean out the intestines from your calamari and thoroughly wash them. Let them drip dry or use a paper towel to absorb all the remaining water so they are fairly dry. Put them in a mixing bowl with the two tablespoons fresh squeezed lime juice. Mix it up well and let them marinate for 15 minutes.
---
Step 2
Put the coconut sugar in a small microwavable bowl and add 1 tablespoon of water. Heat in your microwave for just a few seconds, but long enough to get hot. Do not boil it.
---
Step 3
Stir it up well until you get a smooth syrup.
---
Step 4
Squeeze enough limes to get 1/4 cup of juice.
---
Step 5
Cut the cilantro leaves carefully with a sharp knife into 1/2 inch pieces. Do not chop the cilantro.
---
Step 6
Peel and chop enough garlic so you have about 3 tablespoons of finely chopped garlic.
---
Step 7
Slice the hot chilies very thin, but do not chop them.
---
Step 8
Stir the sugar syrup, fish sauce, and lime juice together well.
---
Step 9
Add the garlic and chilies, stir them in well.
---
Step 10
Let it sit for about 15 minutes or more. Do not add the cilantro until just before serving.
---
Step 11
Heat the water in your steamer until boiling, then lay all the calamari in. Cover and steam for about 5 minutes.
---
Step 12
When they are cooking the calamari will puff up and become firm. The outer skin will crack open. Turn them over and around at least once or twice so they cook evenly. Do not overcook them. Remove from the steam and place them in a bowl of cold water. This dish is served at room temperature.
---
Step 13
Add the cilantro leaves to the garlic salsa and stir in gently.
---
Step 14
Garnish with a sprig or two of fresh cilantro.
---
Step 15
Slice the calamari across the body into 1/2 inch rings, and arrange them on a plate with the heads.
---
Step 16
Serve with satay sticks for eating, with the dipping salsa close by.
---
Support Thai Cookbook TV
If you like our site, and think our recipes are helping you to enjoy delicious Thai foods at home, please buy us a coffee break using the link below. If you donate, you will receive an enhanced user experience on this website.

Click for details!