Authentic Thai Recipe for Southern Thai Stewed Pork Belly
Southern Thai Stewed Pork Belly
หมูฮ้อง ( Moo Hong )
Added on March 28, 2015
Currently rated:


Rated 4.5 Stars from 3185 reader reviews
Yield: 4 - 6 servings
Prep time: 10 Minutes
Cooking time: 1 Hour
Ready in: 1 Hour, 10 Minutes
Moo Hong is a stewed pork dish originating in southern Thailand. It is made by braising chunks of pork belly in an herbaceous sweet paste made with garlic, coriander root, black peppercorn, and coconut sugar, then stewing it slowly in a gravy seasoned with dark soy, oyster sauce, and star anise. The result is a sweet, fatty, and completely delicious dish. Many people that have tried it compare it to Moo Palo, a pork belly dish with similar flavor that includes hard-boiled eggs. The flavor is similar, but this recipe doesn't use Chinese 5 Spice powder which includes cloves, cinnamon, and fennel seed. If you enjoy Moo Palo you should try Moo Hong which has a strong sweet and black peppery flavor.
Ingredient List:

What's in our Southern Thai Stewed Pork Belly.
Basic Directions:

How we make our Southern Thai Stewed Pork Belly.
1) Cut the pork belly into 1 inch pieces, then deep fry until lightly browned.

2) Grind the garlic, coriander roots, black peppercorns, and sugar into a thick paste.

3) Add oil to your soup pot and blend in the herb paste to make a sticky sauce. Braise the fried pork in the sauce until well coated.

4) Add water, then season with soy sauces, oyster sauce, salt, and star anise. Simmer for 1 hour and serve.
Jump to the detailed step-by-step method.
Our YouTube Channel features videos produced by Worawut and the team at
Baan Worawut
, our local Chiang Mai fast food restaurant. The recipes include some the most popular dishes we serve, family favorites from home, as well as a few more complicated Thai recipes that require hours to prepare.
Watch the Complete Video Lesson:
Subscribe, Follow, or Share:
Access 100 Free Thai Cooking Lessons:
Like this recipe? Please share it!
Please rate this recipe by giving it from 1 to 5 Stars: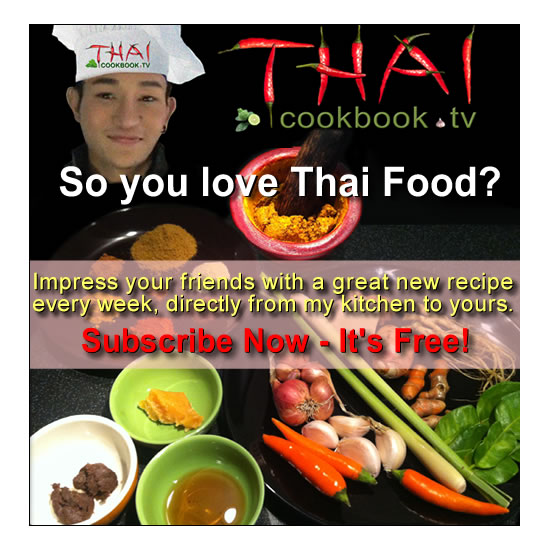 How to Make Moo Hong
Detailed Step-by-step Method:
Print these instructions >
Step 1
Cut the pork belly into 1 inch squares. Measure and arrange the spices and seasonings.
---
Step 2
Clean and chop the garlic and coriander root very fine.
---
Step 3
Using a mortar and pestle, grind the garlic, coriander root, peppercorns, and sugar until you get a thick and sticky paste with only small bits of black pepper.
---
Step 4
Sit the paste aside and prepare a wok or large frying pan, preferably one with a lid. Heat enough oil that you can deep fry the pork belly. The heat should be on the low side for deep frying, so at about 140° C.
---
Step 5
Add the pork belly to the warm oil and fry it slowly until lightly browned. You do not want it to be crispy like bacon, just a little brown.
---
Step 6
Add 1 Tablespoon of vegetable oil to a soup pot, then stir in the herb paste. Fry the paste in the oil until all the sugar melts and you have a nice thick and sticky sauce.
---
Step 7
Add the fried pork to the sauce and braise it until it is well coated and the pan is dry and sticky.
---
Step 8
Add just enough water to barely cover the meat. Stir it up well.
---
Step 9
Add the soy sauces, oyster sauce, salt, ans star anise. Stir well and bring to a hard bowl for a minute. Reduce the heat until it is barely bubbling, then put a lid on the pot and simmer slowly for about an hour.
---
Step 10
Check the pot and stir it up well about every 10 minutes. Add a small amount of water only if needed. When it's done you want to have a a thick and rich gravy, so don't add to much water.
---
Step 11
After cooking for at least an hour the meat will be soft and juicy and the gravy thick and rich. Serve it in a small bowl to be shared at the table as part of a family style meal.
---
Step 12
Allow the stew to sit and cool at room temperature for about 30 minutes. This will allow the oils to separate a little and make for a more beautiful dish. Garnish with cilantro just before serving.
---
Support Thai Cookbook TV
If you like our site, and think our recipes are helping you to enjoy delicious Thai foods at home, please buy us a coffee break using the link below. If you donate, you will receive an enhanced user experience on this website.

Click for details!