Authentic Thai Recipe for Sweet and Sour Pork
Sweet and Sour Pork
หมูทอดปรี้ยวหวาน ( Moo Tod Preow Waan )
Added on March 14, 2015
Currently rated:


Rated 4 Stars from 2973 reader reviews
Yield: 6 or more servings
Prep time: 10 minutes
Cooking time: 20 Minutes
Ready in: 30 Minutes
If you like Chinese style sweet and sour dishes, then you may also like this Thailand version of sweet and sour fried pork. While not at all the same dish, they have some things in common. In this recipe we deep-fry little squares of lean pork that have been lightly coated in coconut flour, giving them just a little breading to hold the sweet and sour sauce. The sauce itself is made by sauteing onion and sweet red peppers in a thick combination of tamarind pulp, plum sauce and sugar. The onions, and especially the chilies, impart an herbaceous flavor to the sweet sauce, making it just a little spicy. We combine the deep-fried pork with this sauce and cook it along with pineapple and tomatoes into a thick, sweet, and sticky plate of food that is more like a dessert than a main dish. A little goes a long way, so you'll need to plan a few other dishes to have with it. And don't, under any circumstances, think of eating all by yourself with just a spoon :-)
Ingredient List:

What's in our Sweet and Sour Pork.
Basic Directions:

How we make our Sweet and Sour Pork.
1) Marinate bite-sized pieces of pork loin in condensed milk.

2) Coat the pork in flour to create a light breading.

3) Fry the breaded pork in deep oil for 2 minutes.

4) Heat the sugar and plum sauce in big wok or frying pan until the sugar melts.

5) Cook the onions and peppers in the sugary sauce.

6) Add the pineapple and cook for 1 minute.

7) Add the deep-fried pork and cook for 5 minutes on low heat until it gets hot and sticky. Turn off the heat, toss in the tomatoes well, then serve.
Jump to the detailed step-by-step method.
Our YouTube Channel features videos produced by Worawut and the team at
Baan Worawut
, our local Chiang Mai fast food restaurant. The recipes include some the most popular dishes we serve, family favorites from home, as well as a few more complicated Thai recipes that require hours to prepare.
Watch the Complete Video Lesson:
Subscribe, Follow, or Share:
Access 100 Free Thai Cooking Lessons:
Like this recipe? Please share it!
Please rate this recipe by giving it from 1 to 5 Stars: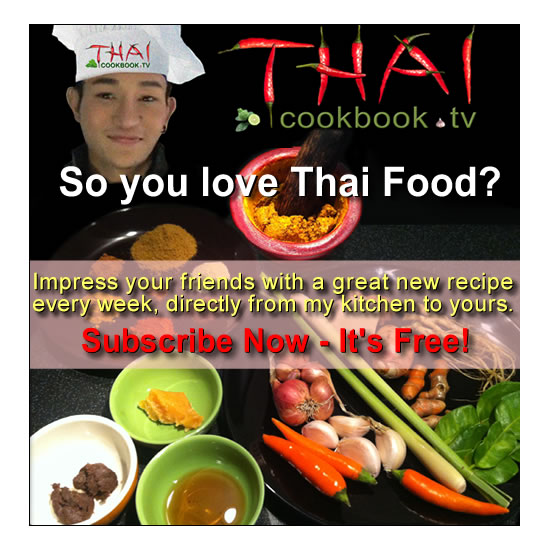 How to Make Moo Tod Preow Waan
Detailed Step-by-step Method:
Print these instructions >
Step 1
Trim the fat and skin away from the pork loin., then cut the meat into bite-sized cubes.
---
Step 2
Marinate the pork in condensed milk for 1 hour.
---
Step 3
Prepare the ingredients: Cut 2 tomatoes into thick wedges, enough to make about 2 cups. Cut pineapple into small chunks, enough to make about 1 cup. Peel and cut the onion in half, then slice the slice into thick slices. Cut the Thai long chilies on a diagonal. Measure and organize the rest of the ingredients.
---
Step 4
For extra flavor, we use half coconut flour and half all-purpose flour, but you can use regular flour if that's what you have. Stir the pork chunks so they are very wet with the condensed milk, then roll them around in the flour until they are well coated.
---
Step 5
Fry the breaded meat in deep oil over medium heat for about 2 minutes or until they are barely getting brown so they are still very soft. You do not want them to get hard and crispy. Drain on a wire rack to get all the oil off, or use a paper towel.
---
Step 6
In a clean wok or frying pan, mix the sugar and the plum sauce together and heat on low until the sugar melts. Do not boil or get really hot.
---
Step 7
Add the red peppers and onions and saute them in the sugary sauce until the onions get a little soft.
---
Step 8
Add the pineapple to the pan and bring the mixture back to a boil.
---
Step 9
Add the fried meat to the pan and stir it in well. Let everything get hot and develop into a sweet and sticky pile. Cook slowly over low heat for about 5 minutes, stirring constantly.
---
Step 10
Turn off the heat and add the tomatoes. Stir in well and let the pan cool while the tomatoes cook just a little. They will continue to soften up while you serve.
---
Step 11
Serve on a nice plate to be shared at the dinner table.
---
Step 12
Garnish with mint, cilantro, or parsley.
---
Support Thai Cookbook TV
If you like our site, and think our recipes are helping you to enjoy delicious Thai foods at home, please buy us a coffee break using the link below. If you donate, you will receive an enhanced user experience on this website.

Click for details!