Authentic Thai Recipe for Hibiscus Flower Drink
Hibiscus Flower Drink
น้ำกระเจี๊ยบ ( Nam Krajiab )
Added on October 25, 2016
Currently rated:


Rated 4.5 Stars from 3790 reader reviews
Yield: 2 liters
Prep time: 2 minutes
Cooking time: 5 Minutes
Ready in: Less than 10 Minutes
In Thailand we make an herbal infusion drink from the sepals and calyces of the flowers of the roselle plant, a type of hibiscus. The dried flowers are boiled in water for 8 to 10 minutes, making a bright red drink that has a sour, tart flavor that many people say is similar to cranberry. While it can be served as an invigorating hot tea, most people like it as an iced drink with lots of sugar. Known here as Nam Krajieb, Thais consider it a healthy drink that is used for treating loss of appetite, colds, heart and nerve diseases, upper respiratory tract pain and swelling and inflammation, fluid retention, stomach irritation, and disorders of circulation; for dissolving phlegm; as a gentle laxative; and as a diuretic to increase urine output. Some researchers think that chemicals in hibiscus might be effective in treating certain conditions, although the scientific data has been inconclusive.

The drink is quite simple to make, and will add an authentic flair to your next Thai meal.
Ingredient List:

What's in our Hibiscus Flower Drink.
Basic Directions:

How we make our Hibiscus Flower Drink.
1) Boil 1 liter of water. Add the dried roselle and boil hard for about 5 - 8 minutes, or until the water is dark pink.

2) Remove the flowers with a slotted spoon. Add sugar as desired, then top off with water to make a total volume of 2 liters of drink. Allow to cool, then filter through a cloth bag or strainer.

3) Refrigerate until ready to serve. Serve over crushed ice with a sprig of mint.
Jump to the detailed step-by-step method.
Our YouTube Channel features videos produced by Worawut and the team at
Baan Worawut
, our local Chiang Mai fast food restaurant. The recipes include some the most popular dishes we serve, family favorites from home, as well as a few more complicated Thai recipes that require hours to prepare.
Watch the Complete Video Lesson:
Subscribe, Follow, or Share:
Access 100 Free Thai Cooking Lessons:
Like this recipe? Please share it!
Please rate this recipe by giving it from 1 to 5 Stars: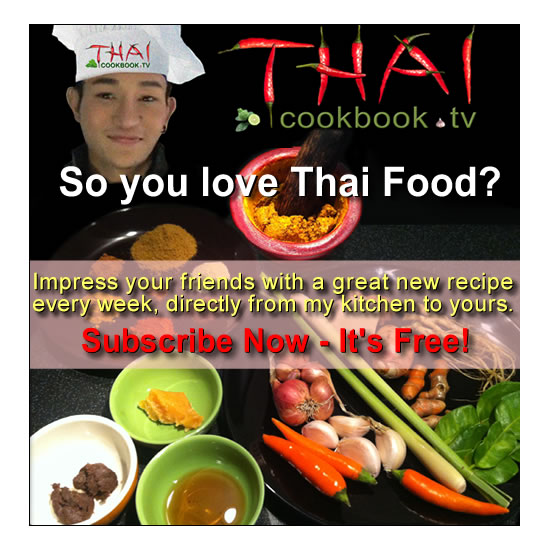 How to Make Nam Krajiab
Detailed Step-by-step Method:
Print these instructions >
Step 1
For this recipe I'm using dried, whole roselle. You'll often find it packaged in broken pieces, more like a tea. Either way this recipe will work fine, but if yours is broken up then you'll need quite a bit less than the 1 cup I have listed in the ingredients. For the size I have here, I can fit about 10 - 15 flower sepals in 1 cup.
---
Step 2
We like our Nam Krajiab quite sweet. The drink is quite sour without sugar, but some people like it that way. If you want a sweet "iced tea" type drink, then I recommend starting with 1/2 cup of sugar for 2 liters of drink and adding more if you think it will be better.
---
Step 3
Boil one liter of water, then add the flowers, boiling on high for about 5 - 8 minutes.
---
Step 4
Scoop the flowers out with a slotted spoon.
---
Step 5
The drink should be a bright pink to dark red color.
---
Step 6
While still boiling, add the sugar to the water. Add more water to until you have a total volume of 2 liters. When the sugar is dissolved completely, turn off the heat and let it cool to room temperature.
---
Step 7
Pour it through a cloth filter or tight mesh strainer to remove any remaining flower particles. Refrigerate in a closed container until ready to serve.
---
Step 8
Always serve in a tall glass over crushed ice to show off the vibrant color.
---
Step 9
A sprig of mint in the glass will make it look pretty.
---
Support Thai Cookbook TV
If you like our site, and think our recipes are helping you to enjoy delicious Thai foods at home, please buy us a coffee break using the link below. If you donate, you will receive an enhanced user experience on this website.

Click for details!