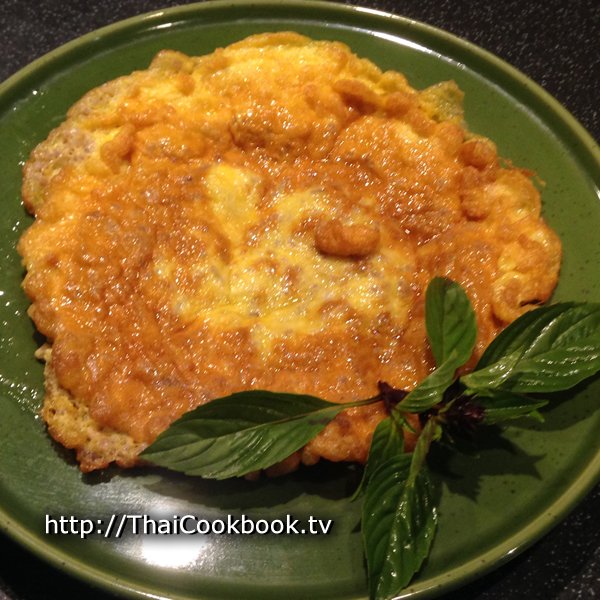 Thai Omelet with Minced Pork
Thai Omelets are a little like a flat, solid, golden-brown pancake made of egg and other ingredients, rather than the light, fluffy, thin, and barely cooked versions included in western cuisines. Kai Jeow Moo Sap is a type of Thai Omelet where ground pork and other seasonings are cooked inside the whipped egg. This allows the juices and fats from the meat to mix with the raw egg while cooking, creating a juicy and very delicious egg dish that is usually eaten as a side dish with other foods for either breakfast, lunch, or dinner. In this recipe Worawut uses the traditional cooking method, where a large wok and a generous portion of vegetable oil is used to fry the egg. Many westerners think the Thai Omelet is too oily, so if you are trying to limit your fat intake, this recipe is probably not for you.
Yield: 1 to 2 serving
Prep time: 5 minutes
Cooking time: 3 minutes
Ready in: 5 Minutes
---
Ingredients:
2 Chicken Eggs

1/2 Cup Ground Pork Loin

1/2 teaspoon Light Soy Sauce

1/2 teaspoon Fish Sauce

1/4 - 1/2 cup Vegetable Oil
---
Basic Directions:

1) Whip 2 eggs well with a wire whisk or fork, then mix in light soy sauce, fish sauce, and raw ground pork.

2) Heat vegetable oil in a wok or deep frying pan over low to medium flame. Add the egg mixture.

3) Fry on one side until nicely browned, then flip over and fry until done. Omelet should be thick and very firm, well browned and crispy on the edges.
---
For more detailed information and a free video lesson, visit this web page: thaicookbook.tv/?rid=9