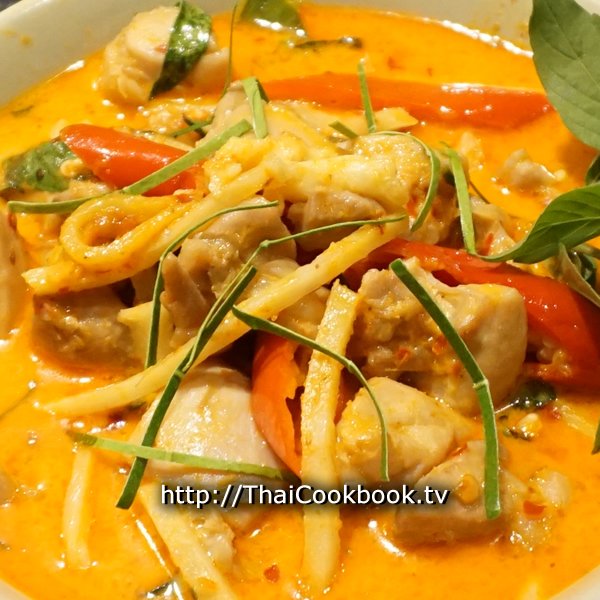 Red Curry with Bamboo Shoots and Coconut Milk
This lovely red curry dish is typical of the type of curries served in Central Thailand, where the soup base is made with coconut milk. It's made with juicy chunks of chicken thigh meat, has a smooth and creamy texture, and deliciously exotic flavors from the fresh lemongrass, galangal, kaffir lime, dry roasted cumin, coriander, and peppercorns used in making the Thai strong red chili paste (Prik Kaeng Ped). Using a packaged red curry paste to make this dish is completely acceptable, but if you want to do the whole recipe from start to finish yourself, prepare our delicious first. You'll be glad you did when you see all those gorgeous bits of red, yellow, and brown in your finished Kaeng Nor Mai, knowing that you made them all with your own two hands.
Yield: 2 servings
Prep time: 10 Minutes
Cooking time: 10 Minutes
Ready in: 20 Minutes
---
Ingredients:
1 Pound boneless, skinless Chicken Thigh Meat

3 Tablespoons Thai Red Curry Paste

2 Cups Coconut Milk

1 Cup Bamboo shoots

2 - 3 Thai Long Chilies

1 Cup Thai Sweet Basil

5 Kaffir Lime leaves

2 teaspoons Coconut Sugar

1 Tablespoon Fish Sauce

1/2 teaspoon Salt
---
Basic Directions:

1) Heat half the coconut milk in a wok or pan, then stir in the curry. Cook it on low heat until it is thick and well blended.

2) Add the chicken meat and fry it in the curry for about 5 minutes, then add the other half of the coconut milk.

3) Add the bamboo shoots, red chilies, and pieces of kaffir lime leaf. Cook for 5 minutes, then let it cool down. Stir in the basil and serve.
---
For more detailed information and a free video lesson, visit this web page: thaicookbook.tv/?rid=65