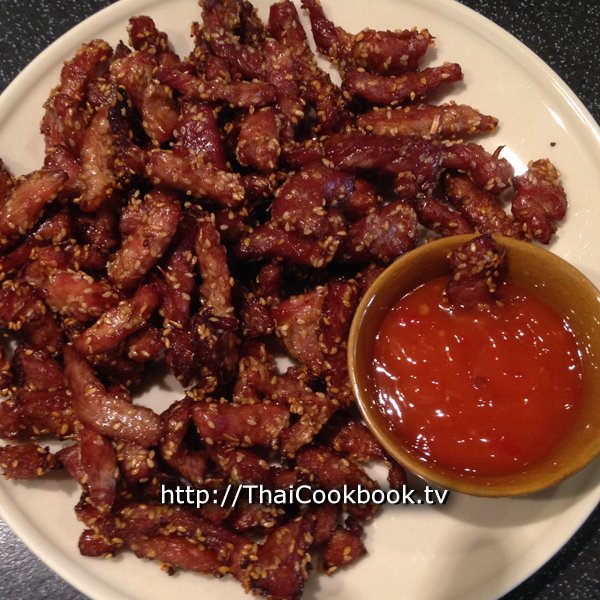 Deep Fried Sun-Dried Pork
Moo Dad Deaw (หมูแดดเดียว) is a terrific and very authentic Thailand appetizer, made by sun drying seasoned strips of pork until they are semi-dried, then deep frying them to a flavorful golden brown. It is a little like jerky, but not hard and chewy. The meat is soft and juicy, and coated with a sweet marinade that is rich with the flavors of coriander root, garlic, and sesame seed. They can be served alone, or with one of our delicious dipping sauces. Add a few crisp, raw vegetables, such as cabbage, green beans, or cucumber, and some warm and chewy sticky rice, and you have an excellent Thai-style crudité platter for your next dinner party. If you don't eat pork, try this recipe with beef for an equally satisfying dish.
Yield: 10 servings
Prep time: 3 Hours
Cooking time: 5 Minutes
Ready in: 3 Hours, 5 Minutes
---
Ingredients:
500 Grams Pork Tenderloin

4 - 5 Coriander Roots

3 - 4 large cloves Garlic

1 teaspoon finely ground White Pepper

2 Tablespoons Sugar

2 Tablespoons Oyster Sauce

1 Tablespoon Fish Sauce

3 - 4 Tablespoons Sesame seed
---
Basic Directions:

1) Cut the pork loin into thin strips.

2) Chop the garlic and coriander, then grind together using a mortar and pestle.

3) Blend the herbs, spices, and sauces together, then add the pork strips. Marinate for one hour.

4) Lay the pork strips in the hot sun for 3 hours.

5) Deep fry on low heat for about one minute. Serve with dipping sauce.
---
For more detailed information and a free video lesson, visit this web page: thaicookbook.tv/?rid=61