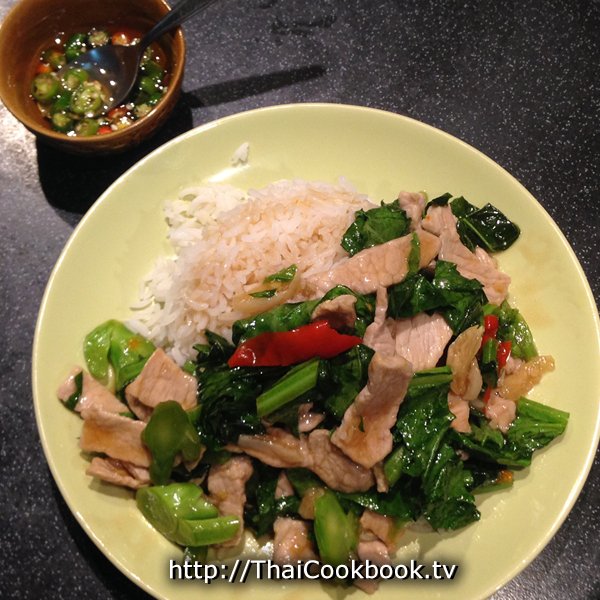 Stir-fried Chinese Broccoli Leaves with Pork
Kana (ผักคะน้า, Pak Kana) is a delicious dark green, leafy vegetable found in Thailand and used in many Asia cuisines. In English, it is commonly referred to as Chinese Broccoli, It is very similar to Kale. Pad Kana is a simple stir-fried dish using either sliced pork loin or chicken breast, garlic, oyster sauce and other seasonings, and just a hint of hot chili. If you don't like spicy foods at all, then this dish comes out great even when you leave the chili out.
Yield: 1 - 2 serving
Prep time: 5 Minutes
Cooking time: 5 Minutes
Ready in: 10 Minutes
---
Ingredients:
2 - 3 stalks Chinese broccoli

1/2 Cup Pork Tenderloin

2 - 3 cloves Garlic

1 Thai Hot Chili

2 Tablespoons Oyster Sauce

1 teaspoon Light Soy Sauce

1 teaspoon Sugar

2 Tablespoons Vegetable Oil
---
Basic Directions:

1) Fry garlic and chili for just a few seconds in oil, stirring, then add the meat.

2) When the meat is cooked through, add oyster sauce, soy sauce, and sugar and cook until the sugar is melted.

3) Add the Kana and stir in well. Cook for about 30 seconds. Serve immediately.
---
For more detailed information and a free video lesson, visit this web page: thaicookbook.tv/?rid=46