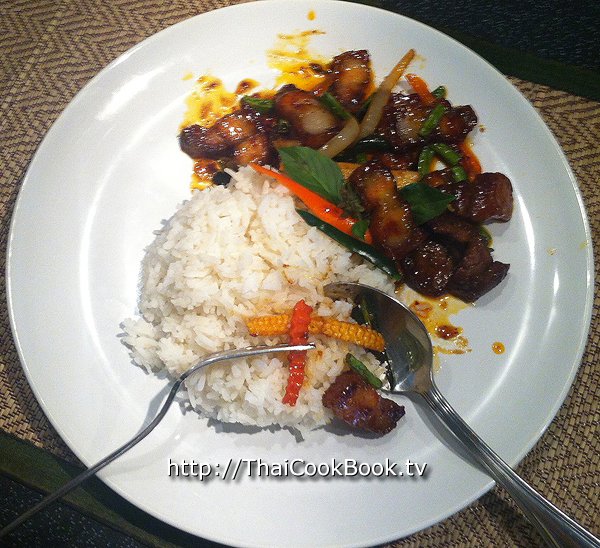 Stir-fried Crispy Pork Belly in Roasted Chili Sauce
Moo Grob is crispy, deep-fried pork belly. Here it is used as the meat ingredient. Along with green beans, onion, baby corn, and carrot, it is stir-fried into the Prik Pao paste. This is one of the most popular menu items served at Worawut's Chiang Mai restaurant. We hope you try it!
Yield: 1 serving
Prep time: 30 minutes
Cooking time: 5 Minutes
Ready in: 5 Minutes
---
Ingredients:
1 /2 Cup Crispy Deep-fried Pork Belly

2 teaspoons Oyster Sauce

1 Tablespoon Thai Roasted Chili Sauce

1/2 Slice Brown or Yellow Onion

1 - 2 Baby corns

1 /3 cup Yardlong beans

1 Thai Long Chili

1 Carrot

2 teaspoons Light Soy Sauce

1 Tablespoon Sugar

2 Tablespoons Vegetable Oil
---
Basic Directions:

1) Fry the roasted chili sauce for about 30 seconds, then add onion and fry for 15 seconds.

2) Add the corn, carrot, sweet chili, and pork slices. Stir it well and fry for about 30 seconds.

3) Add the light soy sauce and oyster sauce, stir it in and let it get hot again, then add sugar. Keep stirring until everything is blended and the sugar is all melted.

4) Add a small amount of water and stir to make a nice sauce. Serve immediately.
---
For more detailed information and a free video lesson, visit this web page: thaicookbook.tv/?rid=20