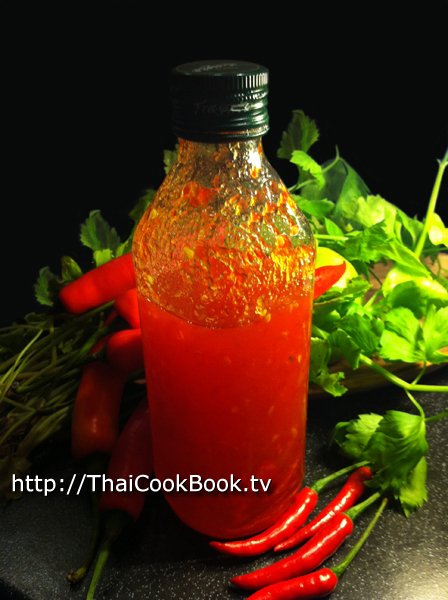 Sweet Chili Dipping Sauce
Nam Jim or Nam Chim is Thai for "Dipping Sauce". It's a generic term that can refer to many different kinds of dipping sauces in Thai cuisine. Most are a combination of spicy, salty, sweet, and sour flavors.

This sweet and spicy version is commonly called Nam Jim Gai, or Dipping Sauce for Chicken, although it can be seen served on the side with many kinds of meats and snack foods. It can also be used as an ingredient in other recipes to add a hint of spicy and sweet.

We use Thai Long Chilies to get this wonderful color, then just a little Thai Hot Chili to get the spicy flavor. You can adjust the ratio of hot to mild chilies according to your own tastes.

The fresh ingredients in nam chim can be finely chopped or pounded in a mortar and pestle, but you can easily use a blender or food processor to make this delicious traditional Thai dipping sauce.
Yield: About 1 Cup
Prep time: 5 Minutes
Cooking time: 10 - 15 Minutes
Ready in: About 30 Minutes
---
Ingredients:
3 - 4 Large Cloves Garlic

3 Thai Long Chilies

3 - 4 Thai Hot Chilies

1/4 Cup Distilled white vinegar

1 Cup White cane sugar

3/4 Cup Water

1/2 Tablespoon Salt

1/2 Tablespoon Lime juice
---
Basic Directions:

1) Put everything into a blender and pulse / blend until the chilies and garlic are well chopped and the mixture is a little frothy.

2) Pour it all into a saucepan or small pot. Heat over a medium - high flame, stirring often to be sure it doesn't stick or burn.

3) Let it come to a good boil for just a bit, then turn down the heat so it's barely bubbling.

4) Cook like this until it starts thicken just a little, for about 10 - 15 minutes, stirring often. Let cool then transfer to a jar with a lid. Store in the refrigerator.
---
For more detailed information and a free video lesson, visit this web page: thaicookbook.tv/?rid=2