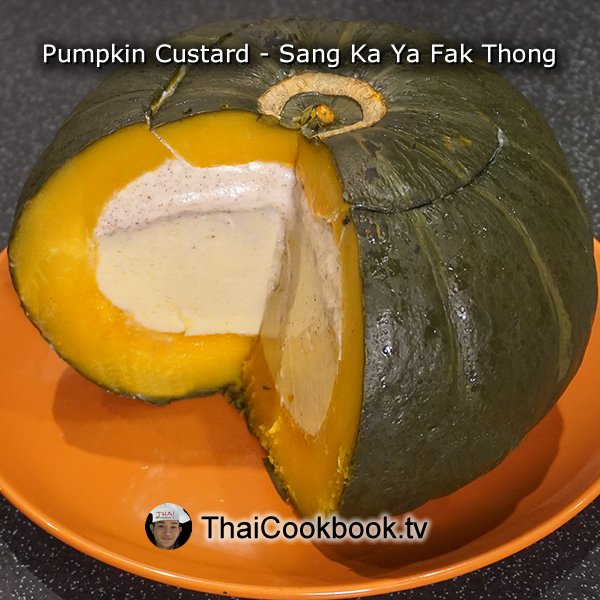 Pumpkin and Coconut Custard
The pumpkin custard known as San Ka Ya is a popular Thai street food snack that can be purchased from vendors by the slice. When served whole and sliced at the table it makes a nice dessert for any type of meal. Watch as we show you how easy it is to make this interesting and very authentic Thai food for your next party, dinner, or to keep in the frig for a nice treat. For this demonstration we used a kabocha squash, also known as the Japanese pumpkin. It is very similar to the Buttercup squash, and has a firm green skin, a strong and delicious sweet flavor, and moist, fluffy texture.
Yield: 10 servings
Prep time: 10 Minutes
Cooking time: 50 Minutes
Ready in: 1 Hour
---
Ingredients:
For the Pumpkin Custard
5 Chicken Eggs

3/4 Cup Coconut Milk

1/3 Cup Coconut Sugar

1/4 teaspoon Salt

1/4 teaspoon ground Cinnamon

1 teaspoon Vanilla extract
For the Whipped Cream Topping
1 Cup Heavy whipping cream

1 Tablespoon White cane sugar

1/4 teaspoon ground Cinnamon

1/4 teaspoon ground Nutmeg
---
Basic Directions:

1) Cut a top whole in the pumpkin and remove all the seeds and pulp. Save the top to be replaced after cooking.

2) Prepare the custard by whisking egg, sugar, coconut milk, cinnamon, salt, and vanilla. Pour it into hollowed out pumpkin.

3) Cook on high heat in a vegetable steamer for at least an hour. Allow to cool completely.

4) Prepare whipped topping. Spoon into the top of the custard or serve it as a topping. Slice the whole pumpkin as you would a pie.
---
For more detailed information and a free video lesson, visit this web page: thaicookbook.tv/?rid=111