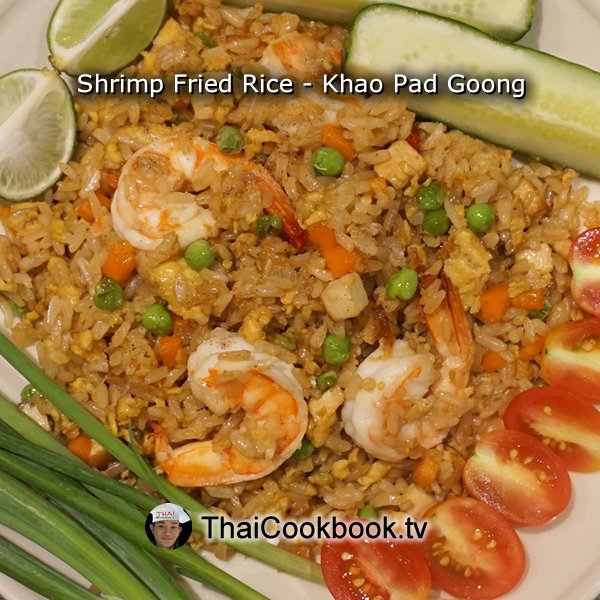 Shrimp Fried Rice
This is an extra special version of our Thai fried rice with shrimp, made with delicious whole grain brown Jasmine rice and plump, juicy shrimp. In Thailand we make a complete meal of fried rice by serving it with a variety of crisp fresh vegetables on the side.
Yield: 2 - 4 servings
Prep time: 10 Minutes
Cooking time: 10 Minutes
Ready in: 20 Minutes
---
Ingredients:
For the Shrimp Fried Rice
10 - 12 medium sized Shrimp (Prawn)

2 cups Brown Jasmine Rice

2 Chicken Eggs

2 Tablespoon (fried) Tofu

10 - 12 pods Sugar Snap Peas

2 Tablespoons Carrot

2 Tablespoons Brown or Yellow Onion

6 large cloves Garlic

1 Tablespoon Oyster Sauce

2 teaspoons Sugar

1 teaspoon Light Soy Sauce

1 teaspoon Dark Sweet Soy Sauce

2 - 3 Tablespoons Vegetable Oil

1/4 teaspoon finely ground White Pepper
For the Fresh Vegetables
1/2 small Cucumber

6 Cherry Tomatoes

6 Green onion

1 - 2 Limes
---
Basic Directions:

1) Lightly fry the garlic in oil for about 30 seconds, then add the shrimp. Fry them just until slightly done, then remove them from the pan.

2) Fry the diced tofu, carrot, onion, and sugar peas until softened, then add the prepared rice. Turn the heat up high and fry the rice for 5 minutes, stirring and flipping, until brown and crispy in some places.

3) Turn off the heat, add the shrimp back into the rice and stir up well. Sprinkle with finely ground white pepper. Serve with fresh vegetables of the side.
---
For more detailed information and a free video lesson, visit this web page: thaicookbook.tv/?rid=103