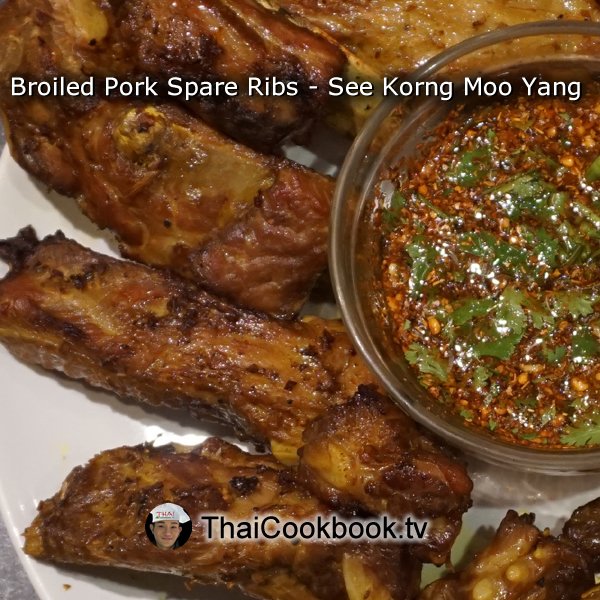 Broiled Pork Spare Ribs
If you like the authentic taste of real Thai food, and like to eat juicy and flavorful pork spare ribs, then you'll love my recipe for oven broiled ribs made with traditional Thai herbs and spices. I start by boiling the ribs in a rich and aromatic broth made with lemongrass, kaffir lime leaf, and galangal root to infuse them with a taste of Thailand, then marinate them in a delicious sauce made with garlic, coriander root, black pepper, and soy sauces, before broiling them in a hot oven. The result is a plate of ribs unlike any other. Try it, you'll love it!
Yield: 4 servings
Prep time: 10 Minutes
Cooking time: 1 Hour
Ready in: 1 Hour, 10 Minutes
---
Ingredients:
For the Pork Spare Ribs
For the Marinade
1/2 Stalk Lemongrass

3 Coriander Roots

2 Large Cloves Garlic

1/2 teaspoon Black Peppercorns

1/2 teaspoon Turmeric powder

1/4 Cup Light Soy Sauce

1 Tablespoon Fish Sauce

2 teaspoons Dark Sweet Soy Sauce
For the Spicy Dipping Sauce
3 Tablespoons Fish Sauce

3 Tablespoons fresh Lime juice

2 teaspoons Sugar

2 teaspoons Sun Dried Thai Hot Chili

2 teaspoons Toasted Ground White Rice

2 Tablespoons Coriander / Cilantro Leaves
---
Basic Directions:

1) Boil the ribs for 30 minutes in an herbal broth made with kaffir lime, galangal, and lemongrass.

2) Marinate the boiled ribs for 15 - 20 in a sauce made with lemongrass, coriander root, garlic, black pepper, soy sauces, fish sauce, and turmeric powder.

3) Broil the marinated ribs for about 30 minutes in a hot oven, then serve with a dipping sauce made with ground dry chilies and other herbs and spices.
---
For more detailed information and a free video lesson, visit this web page: thaicookbook.tv/?rid=100