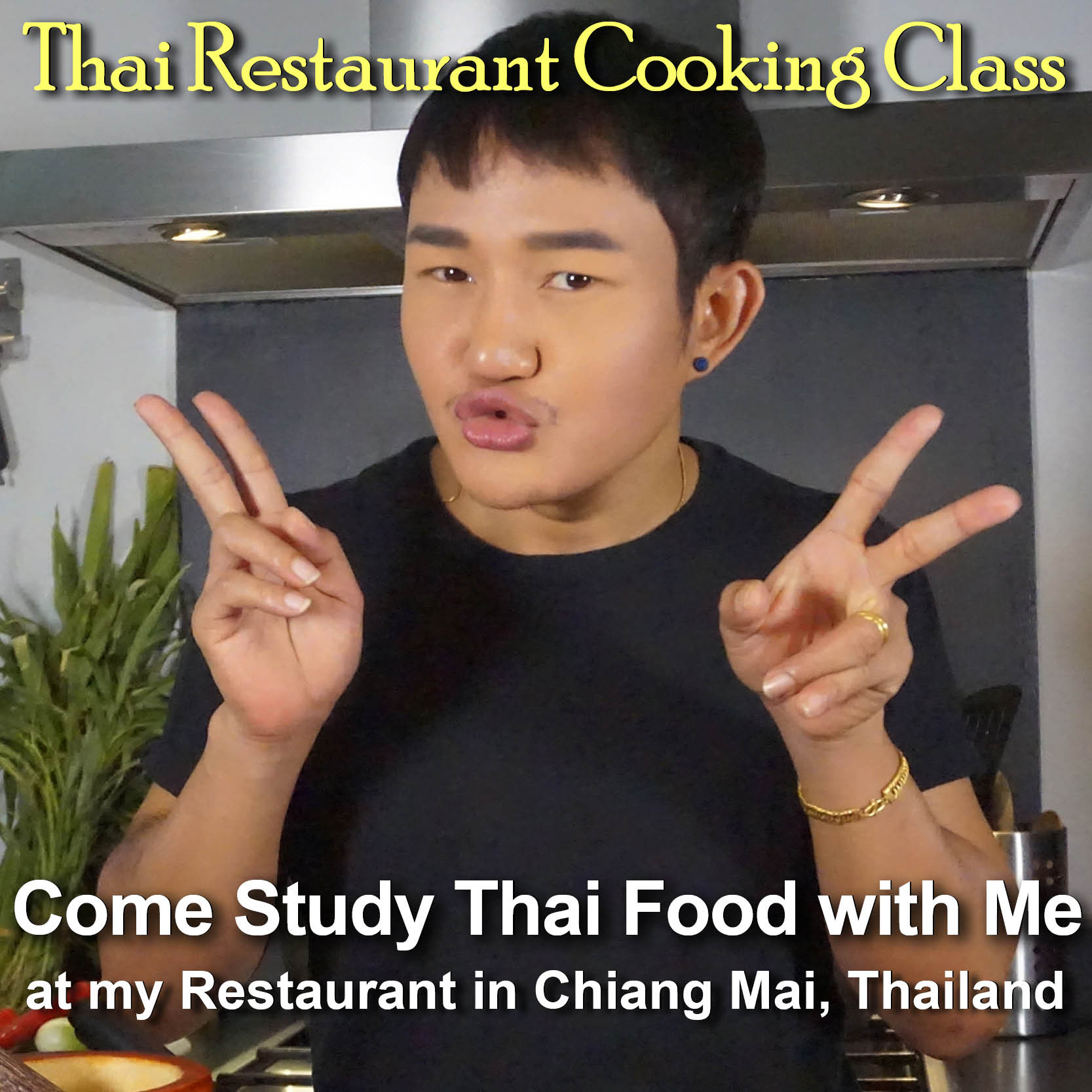 Over the past few years we've been using our website and YouTube channel to share Worawut's recipes for some of the most popular dishes in Thailand. We get thousands of visitors to our site every month, and our videos have been viewed more than a million times. We hope that we can help you to cook tasty Thai food at home. Your success is our reward!
Thailand Restaurant Cooking Experience:
A Unique Opportunity in Thailand
Learn to Cook Thai Food Like A Pro
at Worawut's Chiang Mai Restaurant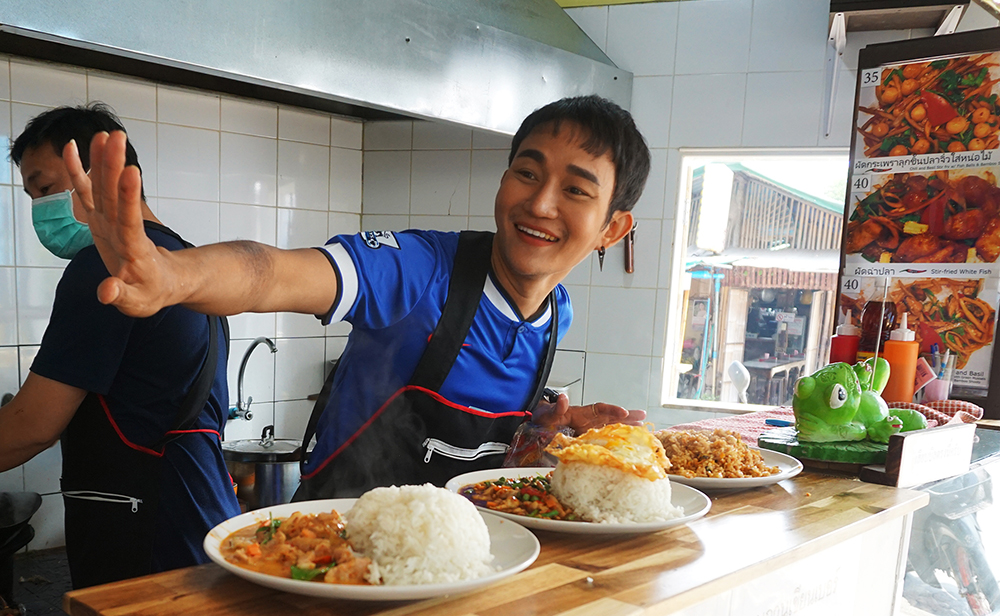 Baan Worawut is a small Thai food restaurant on a busy street near the Chiang Mai Zoo and the road to Doi Suthep. Worawut's customers are local university students that arrive throughout the day between classes. They order fast, and eat fast. The menu includes dozens of everyday Thai one dish meals, noodles, soups, and more. You will not find Royal Thai cuisine or fruit carving here. This is the food that Thai people eat every day. Westerners are welcomed and you will find that it is quite easy to stop by, squeeze in, and have a delicious meal. Menu is available in English, and "Wuut" speaks English well.
We feed a lot of hungry people every day: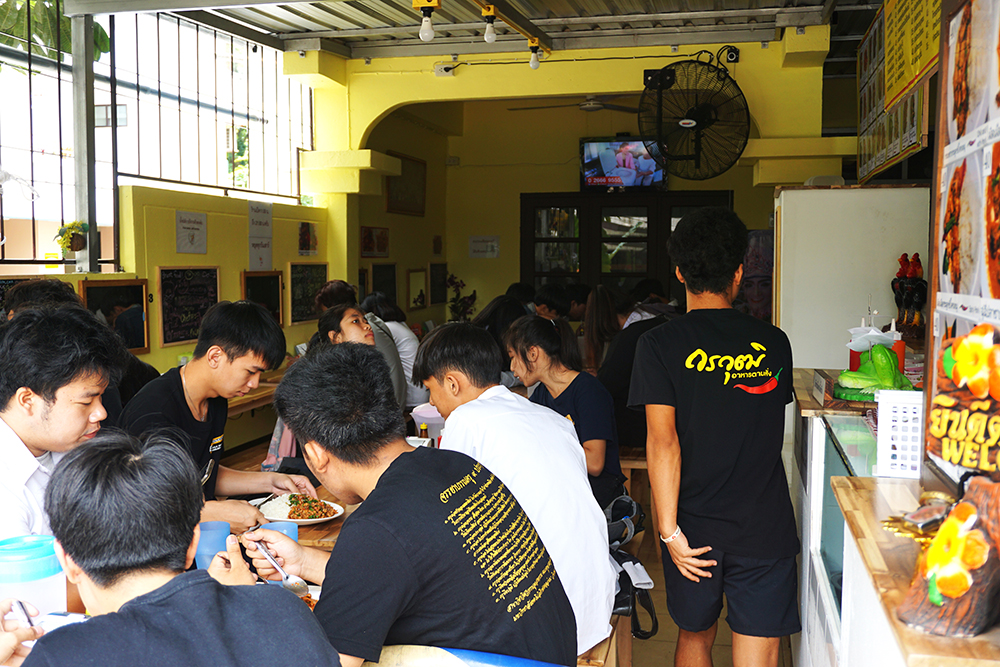 This is no ordinary cooking class:
Taking a cooking class at your hotel can be fun for a few hours, if all you want do is stand there and stir a pan of ingredients until it turns into Pad Thai. Worawut offers you a chance to dive right in to a real world experience, where you will prepare a wide variety of ingredients, and then learn how they all fit together to produce the meals that our customers actually order.
Thai food can't be learned in a day:
This is a serious but fun restaurant cooking course that almost anyone can enjoy. You do not need prior restaurant experience. The course last 3 days and takes place while the restaurant is open. You will learn along side our staff while they do their daily tasks, under the guidance of Worawut, for about 5 hours per day. Additional days can be added.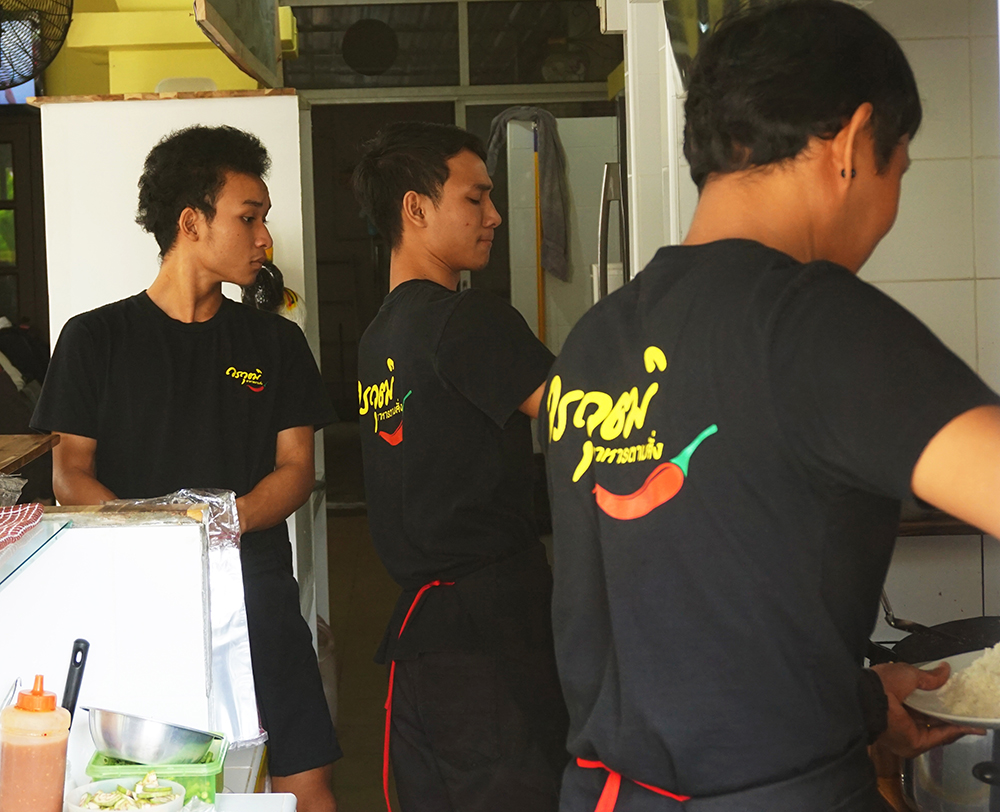 Worawut currently accepts just one new student at a time. However he will accomodate two people if they know each other and want to study together. Sorry, two is the maximum.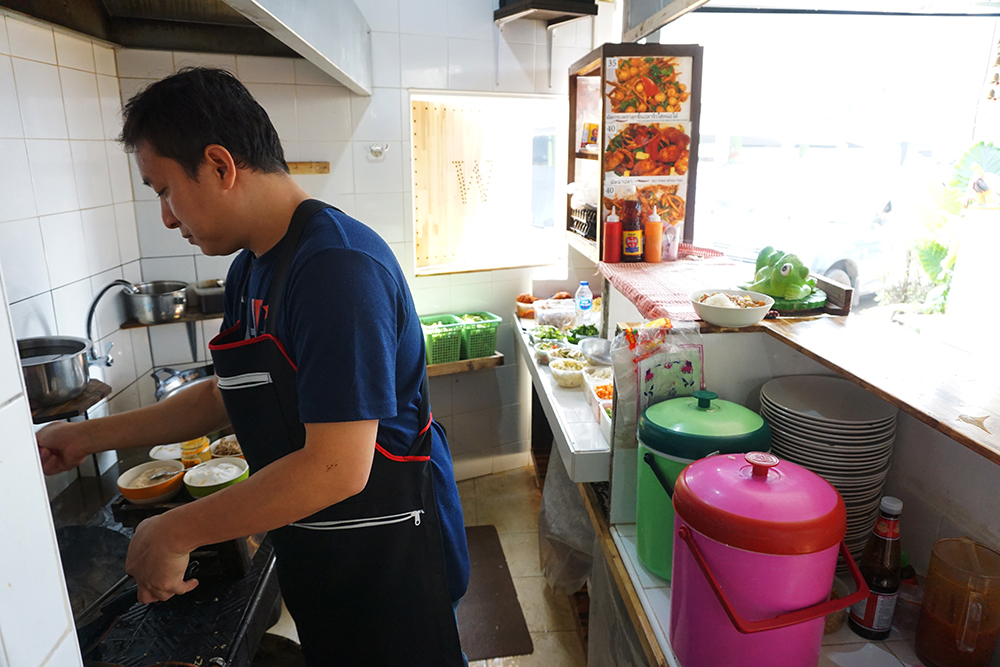 Our restaurant cooking course will provide you with enough basic knowledge about Thai food ingredients and cooking that you should be able to start a Thai restaurant in your home country. But you can also come to cook with us, just for fun. It's a great way to meet Thai people, and have an experience that regular tourists will never have.
This is the real Thailand!
Study guide:
Before starting, you'll be given a study guide that will help you to get the most out of your cooking experience at Worawut's. It includes a complete list of the ingredients we use, how they are prepared before cooking, photos, and descriptions. Also included are complete step-by-step recipes for everything we serve at the restaurant. It's basically a how-to guide that you can refer to for the rest of your life, whether you go on to sell Thai food as a restaurant owner, a professional cook, or just for fun.
Day 1
(5 hours)
You will observe and participate as we clean and prepare the various vegetables and herbs we use every day. Many of these will already be familiar, but some are unique to Asian foods. You can learn to identify them not only by sight, but by taste and smell.
An important part of getting Thai food right is in the way the meats are cut, especially in restaurant cooking. Whether you slice or chop it, we will show you how it's done here.
We will discuss the various types of sauces, spices, and chili pastes (curry) we use. You will have the opportunity to make your own chili paste, and we'll talk about when the different types are used. You'll get to taste each type, and can learn to identify them by aroma, flavor, and ingredients.
The balance of your time can be spent observing the restaurant in action, and you are welcome to hang out as long as you want.
Day 2
(5 hours)
On day 2 you will act as a chef's assistant to your teacher while preparing food orders for customers. This will include selecting and measuring the ingredients for each dish, providing them to the chef in the order they are needed, and observing the cooking process.
Thai foods are usually named using the name of the ingredients. You'll use the recipes from your study guide to help you learn which spices, sauces, and curries are added to create the right flavors.
The restaurant cooking station is a fast-paced environment, and keeping up with the orders can be tiring. Over 3 - 4 hours you can expect to assist in the creation of many different dishes. You can take a break at any time, or just watch for a while as the chef takes over.
Day 3
(5 hours)
On day 3 the fun really starts, as you will switch places with your teacher. You take over as chef and they will assist you.
You will learn how to handle a wok and get used to cooking over a big flame as you prepare several practice dishes. Worawut, the other cooks, and our kitchen staff will taste your cooking and give suggestions.
When you are ready, you'll prepare some random dishes ordered by volunteer customers. Volunteers eat for free, so they are usually easy to find. If nobody wants to try your cooking, we'll continue making practice dishes for the balance of your time.
Leftover food is donated to needy families in our neighborhood.
Over the course of 3 days with Worawut you will have the opportunity to cook many different dishes. Because what we cook is determined by the customers, we can't list them all. We have many dishes on the menu, and each can be prepared in a variety of ways depending on which meat and/or vegetable is requested.
Any recipe in your cooking guide can be made. If there's a dish that you want to try in particular, just ask.
A few of our most popular menu items are listed here:
Pad Graprow (A spicy stir fry with Thai hot chili and fresh basil)
Pad Ped (A red chili stir-fry with Basic Red Curry Paste)
Pad Prik Geng ( A red chili stir-fry with Strong Red Curry Paste)
Pad Kee Mao (A spicy stiir-fry with hot chili and herbs)
Pad Cha ( A style of stir-fry, cooked over very high heat)
Pad Gratiem (A mild stir-fry with lots of garlic)
Kaeng Kiew Waan (Thai Green Curry)
Kaeng Panang (Thai Panang Curry)
Pad Phong (Stir-fried yellow curry with egg)
Choo Chee (red curry with coconut)
Pad Pak (Stir-fried vegetables)
Khao Kai Jiow (Thai Omelette)
Pad Ma Ma (Stir-fried Ramen Noodles)
Pad See Ew (Stir-fried Rice Noodles)
Khao Pad (Thai-style Fried rice)
Tom Yum (Spicy and sour soup)
Tom Kha (Coconut and Herb soup)
Tom Juet (A mild but flavorful Thai soup)
Optional fresh meats, fish, and seafood include:
Chicken (sliced or chopped)
Pork (sliced or chopped)
Pork belly (pork side, sliced)
Calamari (squid)
Shrimp (prawns)
Green shell mussells
White fish fillet
Optional prepared meats, fish, and seafood include:
Moo Grob (deep fried crispy pork)
Gai Grob (deep fried crispy chicken thigh meat)
Chicken hearts and liver
Pork Spare Ribs
Fried Saba fillet
Canned Saba with tomato sauce
Costs and Booking Information:
Worawut's 3 Day Thai Restaurant Cooking Experience
is just $299 (USD) for one person
If another person joins you, it is $100 more, or $399 for 3 days.
How to reserve your experience:
A $150 deposit is required to reserve your lesson dates.
Deposit is made online using PayPal, so you can use most credit or bank debit cards.
Because it's PayPal, your information and money is secure.
Your deposit will be refunded if you need to cancel, but you must cancel more than 2 weeks before your scheduled start date. Otherwise, your deposit can be applied to a different start date in the future, based on availability.
We are not a tour company, so do not provided:
Airfare
Lodging
Transfers
Anything that is not mentioned on this page.
(But we are flexible, and can help you to have a great time in Thailand by recommending optional guides, tours, and side trips.)
Where to stay in Chiang Mai:
There are many small hotels and serviced apartments in our area that are very inexpensive. If you need a recommendation, just ask. Taxi service in Chiang Mai is limited, but ride-sharing company Grab is well established and there are many drivers available. The cost is quite low. You should locate us on Google Maps and choose a lodging that is close, or one that works for you.
Add Additional Days for An Opportunity to Learn these Thai Specialty Dishes:
Many Thai dishes are considered specialty foods, and are normally sold at food stalls and restaurants where that item is the only thing on the menu. Due to the time involved in preparation, they are not on the menu at Worawut's place. We are a type of fast food restaurant called Raan-Ahaan-Daam-Sung. Loosely translated, this means fresh food cooked to order, and any Thai person that sees our business sign will expect certain items to be on the menu. It's a little like the term Bistro in the west.
Recipes for the dishes listed below are included in your study guide. If you are interested in having help in learning to prepare any of these slow-cooked specialty dishes, additional days can be added to your time with us. Just request extra time when booking. An extra day can often be enough time to make a few different items in our backup kitchen.
Braised Pork Leg
(Khao Kha Moo)
Crispy Deep-fried Pork Belly
(Moo Krob)
Sweet Green Curry with Chicken
(Kaeng Kiew Waan Gai)
Massaman Curry with Beef
(Kaeng Matsaman Nuea)
Thai Chicken and Rice
(Khao Man Gai)
Spicy Grilled Squid with Pork Filling
(Yam Blah Muek Yad Sai Moo)
Mango with Sticky Rice
(Khao Neow Mamuang)
Clams in Roasted Chili Sauce
(Hoy Lai Pad Prik Pao)
Sweet and Sour Pork
(Moo Tod Preow Waan)
Deep Fried Sun-Dried Pork
(Moo Dad Deaw)
Spicy Seafood Salad
(Plah Talay)
Southern Thai Stewed Pork Belly
(Moo Hong)
Spicy Glass Noodle Salad
(Yum Woon Sen)
Sweet and Sour Eggs
(Kai Look Kuey)
Pork Belly and Egg Stew
(Moo Palo)
Ginger Chicken Soup
(Tom Khing Gai)
Steamed Egg with Tomato and Mint Salsa
(Kai Toon)
Bitter Gourd Soup
(Tom Juet Ma Ra)
Pork Bone Soup with Daikon and Cabbage
(Tom Jab Chai Kradook Moo)
Herbal Chicken Soup with Bitter Melon
(Kaeng Gai sai Ma Ra)
Fried Fish with Sweet Chili and Garlic Sauce
(Plah Tub Tim Rad Prik)
Steamed Sea Bass with Chili, Lime, and Garlic
(Plah Kapong Neung Manao)
Grilled Chicken
(Gai Yang)
Spicy Mixed Fruit Salad
(Som Tum Pon La Mai)
Roasted Chicken Curry with Longan Fruit
(Kaeng Ped Gai Yang sai Lum Yai)
Spicy Green Mango Salad with Toasted Coconut
(Yam Ma Muang Ma Prao)
Stir-fried Shrimp with Baby Corn and Mushrooms
(Pad Goong Khao Pod Oon)
Broiled Pork Spare Ribs
(See Korng Moo Yang)
Sweet Potato Balls
(Khanom Kai Nok Krata)
Thai Style Fried Wonton
(Geow Tod)
Pumpkin and Coconut Custard
(Sang Ka Ya Fak Tong)
Chicken Wonton Soup
(Kiao Nam Gai)
Massaman Chicken Curry
(Kaeng Matsaman Gai)
Pad Thai
(Pat Thai)
Northern Thai Burmese Curry
(Kaeng Hunglay)
Green Apple Salad
(Apple Som Tum)
Location:
Soi Wat Chang Khian
Chang Phuak, Chiang Mai City
Thailand